The 7.8-magnitude earthquake that has left more than 2,500 dead after striking Turkey and Syria has destroyed portions of the Roman-era Gaziantep Castle, images show. 
Photos taken Monday of the hilltop fortress in southern Turkey show parts of its walls crumbled and stones scattered into piles. 
"The iron railings around the castle were scattered on the surrounding sidewalks. The retaining wall next to the castle also collapsed," the Turkish state-run Anadolu news agency wrote in a report. "In some bastions, large cracks were observed. 
"On the other hand, the dome and eastern wall of the historical Şirvani Mosque, which is located next to the castle and is said to have been built in the 17th century, partially collapsed," the report added. 
TURKEY, SYRIA EARTHQUAKE: BIDEN, NETANYAHU AND OTHER WORLD LEADERS OFFER AID AFTER THOUSANDS KILLED 
Gaziantep Castle was first built as a watchtower in the Roman period of the second to fourth centuries before taking its current form in the sixth century during the rule of Byzantine Emperor Justinian, dubbed the "Architect of Castles," according to the website Turkish Museums. 
TURKEY EARTHQUAKE DEVASTATION CAPTURED ON VIDEO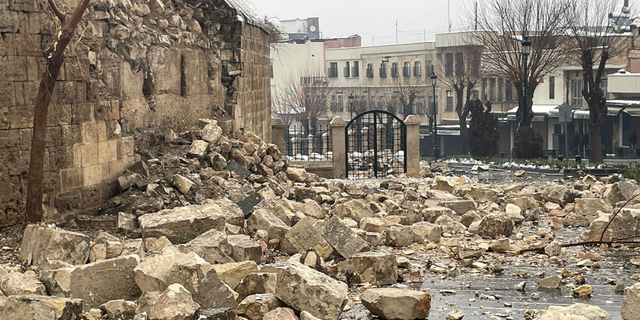 The castle, which has 12 towers, also was renovated throughout history by the Ottomans, the website adds.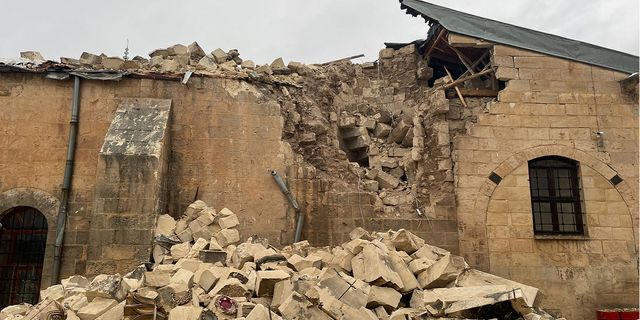 The most recent renovation was in the early 2000s, according to The Associated Press. 
The castle is now a museum that "illustrates the resistance struggle of Antep's people against the French and English occupation, the battlefields, the heroes fighting in these battlefields, the attacks, as well as the actions and the difficulties people faced," regional tourism officials say.