China intends to play a "constructive role" in resolving Russia's ongoing invasion of Ukraine, according to its foreign ministry.
On Monday, the Chinese Ministry of Foreign Affairs put out a statement regarding the ongoing dialogue between Chinese President Xi Jinping, who is visiting Russia this week, and Russian President Vladimir Putin.
According to the statement, President Xi emphasized the importance of "peace and rationality" to resolve the Ukrainian conflict and told Putin that China will remain "objective" in the dispute.
"The two sides had an in-depth exchange of views on the Ukraine issue. President Xi stressed that, on the Ukraine issue, voices for peace and rationality are building. Most countries support easing tensions, stand for peace talks, and are against adding fuel to the fire," a statement read. "A review of history shows that conflicts, in the end, have to be settled through dialogue and negotiation."
PUTIN RIPS WEST AS TRYING TO STIFLE RUSSIA, CHINA'S 'DEVELOPMENT,' WHILE XI ARRIVES IN MOSCOW
President Xi also rejected the "Cold War mentality and unilateral sanctions" and elaborated on the importance of dialogue between the countries.
"China believes that the more difficulties there are, the greater the need to keep space for peace. The more acute the problem is, the more important it is not to give up efforts for dialogue. China will continue to play a constructive role in promoting the political settlement of the Ukraine issue," the foreign ministry said.
ZELENSKYY: PUTIN'S ARREST WARRANT MARKS 'TURNING POINT,' HE'LL BE HELD RESPONSIBLE FOR 'EVERY DESTROYED LIFE'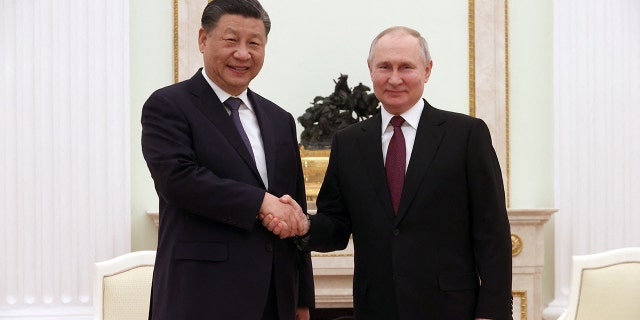 The Ukrainian invasion crossed the one-year milestone last month.
When President Xi landed in Moscow on Monday, the two world leaders met at the Kremlin and were seen warmly shaking hands and taking photos before holding in-depth and candid conversations on China-Russia relations and other issues of mutual interest.
The Chinese Foreign Affairs office said President Putin appreciated China's position and for "consistently upholding an impartial, objective, and balanced position and standing for fairness and justice on major international issues."
"Russia welcomes China to play a constructive role in this regard," the ministry added.
President Xi will remain in Russia until Wednesday, March 22.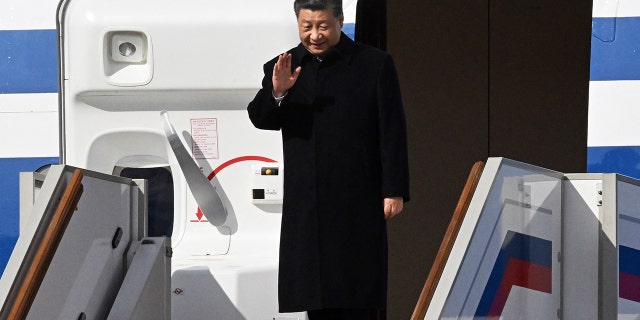 Most of the international community has condemned Russia's invasion. While China has repeated advocated for peace, they have not expressed the same harshness towards Russia as the West and NATO countries. 
Ukrainian President Volodymyr Zelenskyy has called for Russia to return all territories it has seized, including Crimea, before peace can be achieved.