The overall leads
Women's endurance:
1. Katie Archibald 132 points
2. Anita Yvonne Stenberg 120
3. Lily Williams 107
4. Maggie Coles-Lyster 103
5. Lara Gillespie 86
Men's endurance:
1. Dylan Bibic 116 points
2. Will Tidball 100
3. Jules Hesters 93
4. Eiya Hashimoto 86
5. Philip Heijnen 72
Women's sprint:
1. Ellesse Andrews 133
2. Alessa Catriona Propster 126
3. Martha Bayona 93
4. Emma Finucane 93
5. Nicky Degrendele 73
Men's sprint:
1. Harrie Lavreysen 154 points
2. Matthew Richardson 125
3. Mateusz Rudyk 108
4. Tom Derache 84
5. Kevin Quintero 60
Women's elimination – Katie Archibald
Here's that crash for you, before the resumption:
Another neutral, another gunshot. All the riders who had looked hurt are on track, but Richardson and Lewis don't resume. Our next elimination is one of those though, and it's Baleisyte who must make way. 13 riders, left, and Gaxiola makes it 12 in the middle of the track and not moving up. Next out is 53, Amalie Olsen, the Dane who finishes in 11th place. Khan has been surviving despite discomfort and another, as Emma Cumming is instructed to the middle. Bell rings again and this time it is Dani Khan, who dives down but there's nowhere for her to go but out in 10th place.
Stenberg hovering at the back, but she gets herself out of trouble at the expense of young Helene Hesters. Eight becomes seven, with Sevcikova caught at the bottom. The pace is rising, and Williams has space but not the legs, Gillespie just sneaking through. One short line now, and between the Canadians it's Maggie Coles Lyster out in 6th. The bell rings again, and this time it's Neah Evans, with Sarah van Dam making one more save.
Four left, and Van Dam's legs aren't looking great. Nope she's gone. Down to three, and they're watching each other as Gillespie tries to go, can't. It's so tight and looked like Stenberg but Gillespie just got cooked. These two again and there goes the queen one more time. She tried to squeeze out Anita Stenberg a KO before, but couldn't, so beat her for pure power and performance instead. She's the best at this and everyone knows it.
Women's keirin final – Martha Bayona wins!

Alessa Catriona-Propster
Ellese Andrews
Daniela Gaxiola
Emma Finucane
Lijuan Wang
Martha Bayona
The women, now, in what is hopefully not the last race of the evening. Bayona in position one, Propster in P6 at the back. This will be fascinating – the outcome, if nothing else. Gaxiola moves up behind Propster, as Wang moves, then Andrews at the bell, with Bayona on her wheel. Bayona comes onto Andrews' shoulder and beats her at her own game. Propster is nowhere but Andrews hangs on to the jersey going into the final night of racing. Women's sprinting is alive and very very well.
Men's keirin final – Kevin Quintero wins!
Harrie Lavreysen
Tom Derache
Matthew Richardson
Kevin Quintero
Sam Dakin
Mateusz Rudyk
So the track must be okay then, even if the women's endurance field is not all fit and well. Lavreysen should seal the deal here. Off we go then, with Rudyk settling into P1. Four and five is Lavreysen and Richardson, with the Australian exactly where he'd want to be. No need to go hunting for Harrie who is looking around already. Dakin makes the early move with 1.5 to go, as Quintero wakes up but he's shoulder to shoulder with Harrie and it's so tight into the home straight but it's a beautiful win in rainbows for Kevin Santiago Quintero. He was boxed but he forced his way through the tighrest of gaps to streak clear of Harrie Lavreyson.
Hold up… decision pending… nope, we're all good, it's official.
Women's elimination
It's Archibald time, as she defends what is now a nine point lead over Lily Williams. Neutral and then we're on it. From the back straight to the front for Katie by the first bell, and the first elimination, because there has to be someone, and it's Brandwagt at the top of the track who is out first. Out second is.. Francesca Selva. That was a tight one, and got a bit physical and oh no! A big bad crash, involving a whole bunch of riders towards the front of the bunch. That looked awful, ending up in an almighty mountain of bodies. Archibald slid but was one of the first back on her feet. This will take some time to sort out, but we hope there are no bad injuries, as Jules Hesters goes to check on his sister Helene. We'll have to come back to this one, because they're going to the men's keirin final.
'Neck and neck on the line!' – Tidball's triumph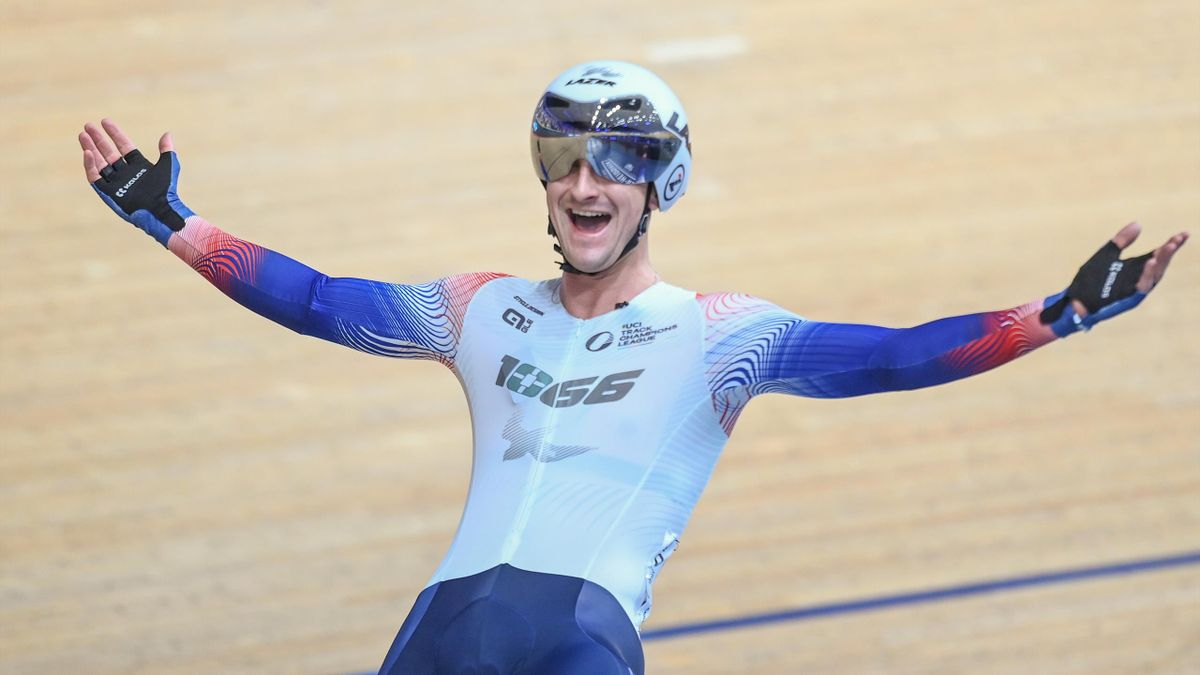 Women's keirin – Round 1
Heat 1
Emma Finucane
Ellie Stone
Lauriane Genest
Orla Walsh
Nicky Degrendele
Lijuan Wang
Quite an open one this, but you'd pick Finucane to go through to the final with someone. Maybe Wang, if I have to call it? Degrendele should make it though, in this short, explosive race. Finucane starts behind the bike, but it's Stone who moves up with two to go, and gives Finuncane a target. The Bell rings with Finuncane coming round and Genest looking good. Finuncane goes clear and it's tight behind her, but joining the Welsh woman in the final is Lijuan Wang, from nowhere.
Heat 2
Lowri Thomas
Katy Marchant
Alessa-Catriona Propster
Alla Biletska
Martha Bayona
This is a difficult heat, even with the league leader here. Bayona is a top top rider, but Marchant has done so well and will be there at the finish too, you'd expect. The Brits are going to have to come all the way from the back. Propster takes up the first position, as Marchant tries to come round at the bell, but Bayona and Propster lock it up by the final turn, and it's too much for the others.
Heat 3
Daniela Gaxiola
Miriam Vece
Ellesse Andrews
Sophie Capewell
Ruby Huisman
Kelsey Mitchell
Can Mitchell bounce back in her competition? She should have fresh legs and is drawn in position one. As the derny disappears it's Gaxiola moving from back to front. Andrews goes with her, looking to stay clear of trouble. Andrews leading into the bell, with Gaxiola holding that position, and it's another solid result for the Mexican woman.
Impressive Propster takes sprint victory over Britain's Katy Marchant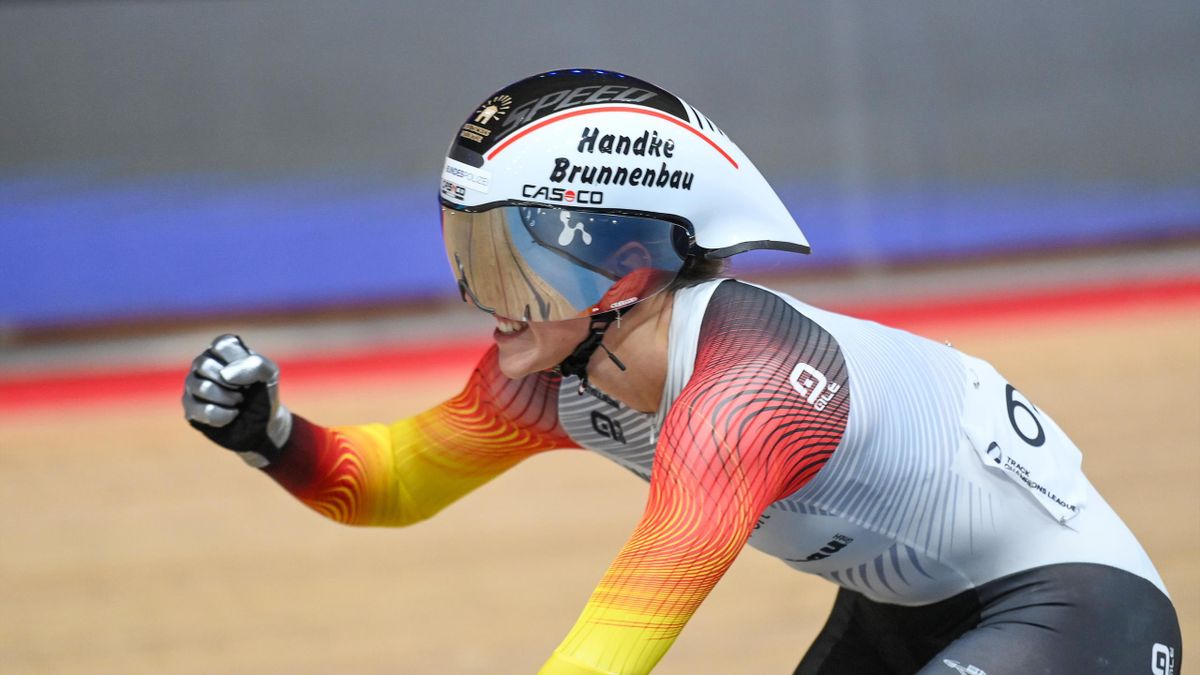 'Snatching it right on the line' – Lavreysen edges battle with Richardson
Men's keirin – Round 1
Heat 1Mateusz RudykTom Derache
Vasilijus Lendel
Nien Hsing Hseh
Lars Romijn
Mikhail Yakovlev
Quickfire keirin then, as the odd looking derny gets them up to speed, with Rudyk making his move from position 6 already. Rudyk leads at the bell while the rest swing and swap. Derache looks to come round Rudyk but has to settle for second. Rudyk controlled that one alll the way. And that was one of the Herne Hill coaches holding Lars Romijn at the start.
Heat 2
Kevin Quintero
Matthew Richardson
Callum Saunders
Jean Spies
Tijmen van Loon
Ronaldo Singh Laitonjam
Spies in first position, the World Champion Quintero bringing up the rear. Richardson looking around at Quintero as the derny vanishes and Van Loon makes his move, puts the pace on. Richardson looking good at the bell, as is Quintero. it's going to be these two, timing it perfectly. They knew what they were doing. Richardson just followed Quintero and saved energy. Very smart you'd have to say. And he was enoying it, waving to the crowd even before taking the win.
Heat 3
Joe Truman
Esow Esow
Harrie Lavreysen
Melvin Landerneau
Sam Dakin
Daan Kool
Lavreysen and who then? This is a relatively easy fight for him, you'd think. Esow looking lively early doors in this one, with the furthest to go. Lavreysen comfortably positioned midpack. And there goes Esow, going for it with 2 to go. Landerneau on the chase, and it's alll together at the bell, with Harrie about to win this at a canter, and Dakin following him into the final. The kiwi is happy with that result and did well to follow.
'A huge result' – Khan lands momentous win in TCL scratch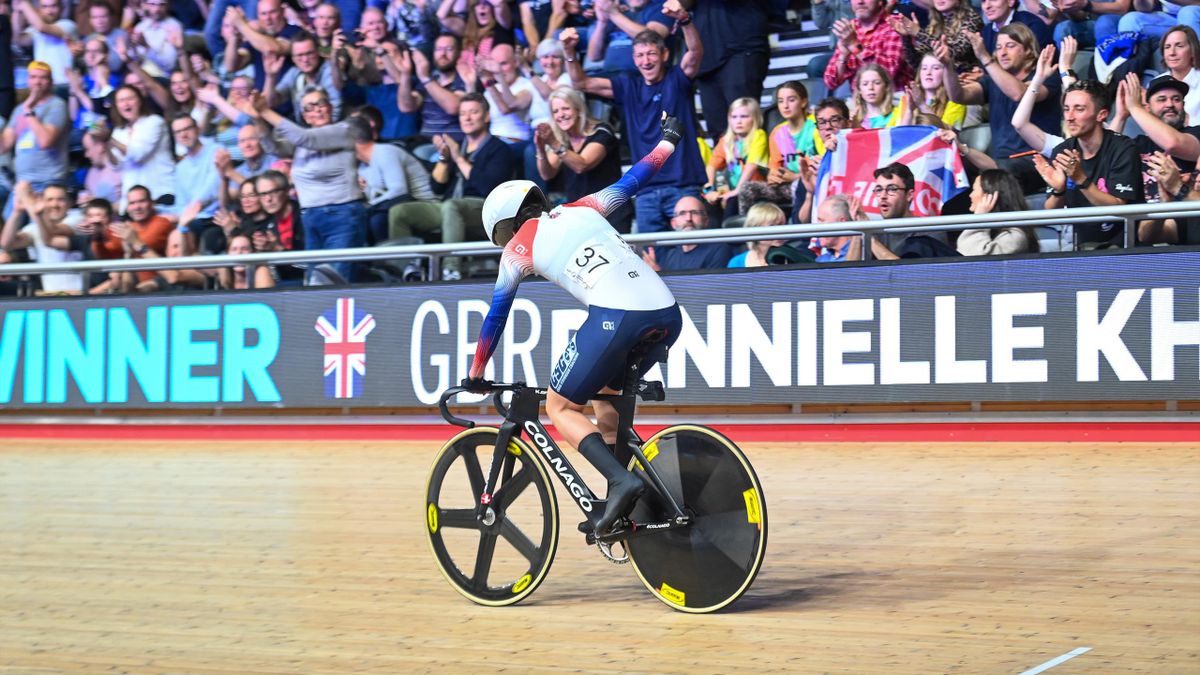 Men's elimination – Will Tidball wins!
We're back with the men and it's devil time once again. Last rider across the line every other lap is knocked out, until there's only two, and then it's best man wins.
The gun goes, and Eefting is already struggling at the bell. He's digging deep but can't dig far enough. First out, paying for that earlier effort. Next to go is Imhof, at the bottom of the track. Another one straight away, with Guillemete in trouble and gone. Tight but it was positional. The Frenchman, Lafargue can't make it back on terms, the former sprinter. Another bell, another elimination, and almost Will Perrett but in fact it's Dylan Bibic! He looked safe but no. This is interesting. This time round it is Perrett, as knocked out in 11th place is the Austrian Schmidbauer with nowhere to sprint at the bottom. Ten left, and Hashimoto's elimination makes it nine. 62 Hansen is dashing to save himself at the expense of Mark Stewart. Super fast devil this one. Tuur Denns says goodbye in 8th, as it's getting physical at back between Hoover and Reinhardt, and Reinhardt who is eliminated.
Hoover just survives but Hansen doesn't. Gone in 6th. But Hoover is out in 5th and we're in the final 4. The Dutch rider Heijnen has been playing with fire and is burned out for 4th place. The bell, rings, Tidball fighting the shoulder of Hesters and Mora is knocked out. One final sprint between Tidball and Hesters. They both go full gas from the top of the track. Hesters leads into the home straight as Tidball closes but can he seal the deal??? They're inseparable to the naked eye at the line and no-one is celebrating but eventually the call comes. Well done Will Tidball. He went deep but he timed that lunge to absolute perfection. That plus Bibic's questionable elimination really puts the cat among the pigeons.
Women's sprint final – Alessa-Catriona Propster wins!
A third upset in a row on the cards for Katy Marchant? Don't rule it out. Marchant takes position one, and watches Propster over her shoulder, as the German goes high. Are we going to get a track stand. Almost, but not quite. Marchant back down the track as Propster is forced to the front, and Marchant can force it from behind at the bell. Propster pulls away, accelerating, but it's Propster all the way, showing all the form in the world and making this competition a very real fight. The top two are now tied!
Men's sprint final – Harrie Lavreysen wins!

These two, again? A repeat of last Saturday, can Matthew Richardson make it two from two? The Australian is in P1 and it's a delightfully slow start in this regular two-up match. Richardson in no rush at the bottom of the track. Getting faster with a lap and a half left as Lavreysen snatches position one, only to give it up, as Richardson leads at the bell. It's so so close and incredibly fast as Lavreysen is just quicker. There's tyre's width in it, but the story is told by the power difference – 200 watts separating the two sprint giants.
Women's scratch race – Dani Khan wins!
It's Katy plus 17, but she hasn't had as much luck in the scratch, as she has in the elimination, so chances for any of these women. 20 laps on the board, first across the line.
Archibald rolls out with British team-mates on either side of her. It's another cagey start, with straight swings in the opening laps, a bit more predictable than the men's scratch. And there we have a little move, 47 and 46, Hesters of Belgium and Brandwagt of Netherlands, who steal a march on the rest. Neither big threats to the overall, as Lily Williams and Antonieta Gaxiola do the work of bringing them back with 12 laps left.
Nine laps to go and it's all together, and with 8 on the board there's a nod of a move from the Czech, but she's not that committed to it, as the pace increases into the final 2km.
This is when Sophie Lewis does make a serious move and the crowd are on their feet. Lily Williams is in the chase, as Dani Khan joins the group to make it three out front. 750m remaining and the rest seem to be racing for 4th place already.
Almost half a lap's lead at the bell, as Lewis falls off the back, Williams on the wheel and sprints hard but Khan just just hangs on at the line. First British win of the night and it wasn't easy to hold off Lily Williams, who has won two of these this series. Katie Archibald in 6th means a swing of… 7 points to the American. But it's all about Dani Khan!
Women's sprint – Semi-finals
Semi-final 1 – Alessa-Catriona Propster wins!
Emma Finucane
Martha Bayona
Alessa-Catriona Propster
Propster's been a revelation in this series, but Emma Finucane is a delight. I have no qualms about revealing my bias towards the World Champion. Bayona might have something to say, too. This is a tough semi. All three know what a threat each other represents, and it's showing. Propster on the front, Bayona at the back. Three very close with a lap to go, and it was a proper battle that one. Finucane had the speed and the power but she just had too far to go, while Propster had the inside line, which paid off for her.
Semi-final 2 – Katy Marchant!
Ellesse Andrews
Daniela Gaxiola
Katy Marchant
Can Marchant put away the league leader, after knocking out the Olympic champion? Andrews needs to be watchful. Which she is, as she comes round in the opening lap. Still lots of looking around as the speed increases, and Marchant moves with a lap to go. Marchant is holding, holding and into the night's final! Two huge wins. Katy Marchant is in dreamland!
Men's sprint – Semi-finals
Semi-final 1 – Matthew Richardson wins!
Matthew Richardson
Mikhail Yakovlev
Mateusz Rudyk
Three strong men, but a chance to see the top two sprinters in the world up against each other again, should the Australian make it through here. Rudyk goes straight from the top of the track to the bottom, from third place to first, as the Poland rider wants to make it hard. It's already hard, as Rudyk gambles. At the bell Richardson has to move. He moves, taking the lead in the home straight, and not before.
Semi-final 2 – Harrie Lavreysen wins!
Harrie Lavreysen
Kevin Quintero
Joe Truman
You might be surprised to see Truman in this one, but that's because Tijmen van Loon was DQ-ed from the opening heat. Can Big Kev make magic happen? Truman in P1 then, Harrie the meat in the sandwich, and no hanging around for any of them in the opening lap. Truman pushing, Quintero coming round at the bell, Lavreysen laying it down through the middle and through to the final.
Men's scratch race – Roy Eefting wins!
AKA Come on Will Tidball. What can the Brits do to disrupt the dominance of Dylan Bibic? 17 riders starting, without Matthias Buchli, who is at home with a new baby. Back, though, is lovely Claudio Imhof. One neutral lap and then the gun goes to signify the start. 20 laps. Here we go then.
It's an interesting one already, with gaps appearing in the middle, even without attacks. Tidball's wheel is being followed closely, as he swings up with 16 laps to go. It's very surgey this one before Will Perrett launches the first attack, with Sebastian Mora and Imhof in pursuit. They agree quickly to work together but can't get much of a lead. We're all together and both swing up with 12 remaining.
Half-way through and it's very tight indeed. Bibic is watching, then Hoover looks to sneak away, taking Perrett with him. This gap is bigger, 12 laps in, and the whole thing is breaking up now. There's a four chasing a two and Bibic is in neither group.
Inside the last 5 and Hesters makes it a group of six up the road, but there's not quite enough firepower and we're basically back together again. It's going to be a sprint after all, unless Eefting can steal it. Eefting takes the bell, but can he hold on? He's gonna do it, and it looked like Bibic in second in that jersey to me. A good result for Eefing, as Bibic improves his advantage over the rest.
Last week in the men's scratch race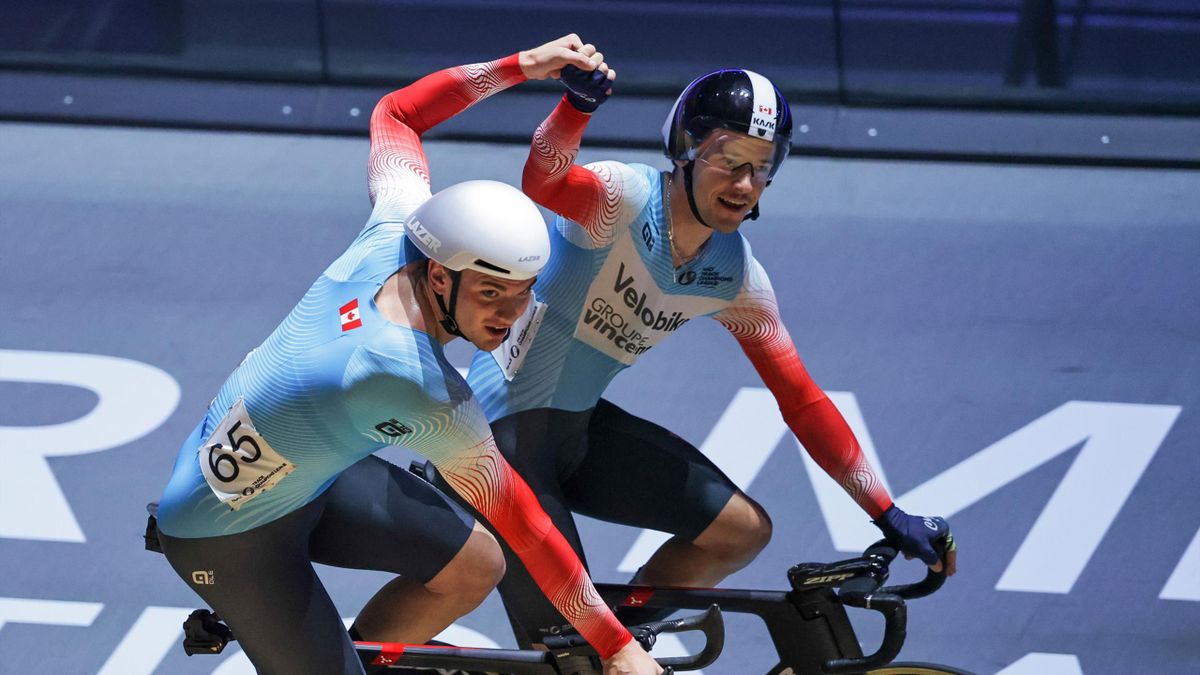 Women's sprint – Heats
Heat 1 – Katy Marchant wins!
Katy Marchant (Great Britain)
Orla Walsh (Ireland)
Kelsey Mitchell (Canada)
Kelsey Mitchell hasn't quite sprinted as well as we knows she can, and although she made it to the sprint final last week, she failed to make it past the opening bout in the keirin. 10th place Katy Marchant came second in the sprint in Berlin. Can she do it again, in front of a British crowd? They'll give Orla a good clap as well. Marchant leads them onto the azur – looking to catch Mitchell out. Mitchell dives over the top with 1.5 to go, but Marchant roars past herself at the bell, and Mitchell has it all to do with half a lap but Marchant has daylight and the Olympic keirin champ is nowhere.
Heat 2 – Martha Bayona wins!
Martha Bayona (Colombia)
Lauriane Genest (Canada)
Alla Biletska (Ukraine)
Bayona in 5th place despite missing a week. Her placing belies her performances, you'd say. Lots of support for the Ukrainian rider, who has moved to Aigle in Switzerland. Biletska has gone really really early, and Bayona has to commit to the chase. One lap left and Bayona bridges, goes round and survives a scare. Well played Biletska for making it interesting, and Bayona for not panicing.
Heat 3 – Daniela Gaxiola wins!
Sophie Capewell (Great Britain)
Daniela Gaxiola (Mexico)
Nicky Degrendele (Belgium)
Degrendele just two points off the podium as things stand. Not that there's a podium, but top three, y'know. Can Sophie Capewell make it two Brits (so far) in the semis? Capewell in first position, going slow, as Degrendele looks to surprise her by darting underneath, but the door closes. Gaxiola goes over the top with a lap to go. Capewell has to react but she can't as the Mexican rider goes all the way. Huge upset early doors. Who doesn't love an underdog result?
Heat 4 – Emma Finucane wins!
Emma Finucane (Great Britain)
Miriam Vece (Italy)
Ruby Huisman (Netherlands)
Third place Finucane, in the rainbow stripes at just 20, is here. This is a big moment for her. How will she handle the pressure? She leads, she looks, she is forced to accelerate. Two laps to go and it's still Finucane looking over her shoulder. The bell rings and she has to lead it out with Vece challenging, but Finucane holds on. Vece pushed her all the way but Finucane passes the test.
Heat 5 – Alessa-Catriona Propster wins!
Alessa-Catriona Propster (Germany)
Lowri Thomas (Great Britain)
No Migle Lendel, sadly, due to illness, so just the two-up. Can Thomas deliver another upset? They're weaving and watching and there was almost a track stand where Thomas forces Propster round, before jumping right on her wheel. At the bell, can Thomas come round after sitting on for a lap? She can't. She led and led and led and was just able to be faster for longer.
Heat 6 – Ellesse Andrews wins!
Ellesse Andrews (New Zealand)
Lijuan Wang (China)
Ellie Stone (Great Britain)
it's the superstar, Ellesse Andrews, up against the well performing Wang and Stone, who is bottom of the league. Andrews will win this from the front, sorry to spoil it for you. But the other two won't make it easy and we get up to speed quickly. Stone on her shoulder and Andrews won't let her past, before settling in as Wang challenges and is getting closer and closer but Andrews does what she needs to and wins by a wheel or less.
Men's sprint – Heats
Heat 1 – Van Loon wins!
Tijmen van Loon (Netherlands)
Joe Truman (Great Britain)
Esow Esow (India)
We begin with British interest here in London. He's done well our Joe has, and he'll have the crowd behind him. He's in position one, but Esow comes round him with two laps to go, before being swamped. Van Loon dives past at the bell, and pulls away. Truman had nothing left to give, unfortunately.
Heat 2 – Mikhail Yakovlev wins!
Callum Saunders (New Zealand)
Mikhail Yakovlev (Israel)
Jean Spies (South Africa)
Saunders having over-performed, arguably, Yakovlev under. His points not matching his power, while Jean Spies had a good week in Paris. Saunders in 5th and on form, but the Israeli it is who winds it up. At the bell it's Yakovlev but Saunders comes up on his shoulder. The kiwi can't come past though, and that's a result that matches Yakovlev's talent, you'd say.
Heat 3 – Kevin Quintero wins!
Kevin Quintero (Colombia)
Daan Kool (Netherlands)
Tom Derache (France)
9th plays 15th plays 4th. Derache, who had a disappointing week at home in Saint-Quentin, will be looking to improve, but this is a big draw. Big cagey the start, with Derache looking back and forth, winding it up and at the bell Quintero has a long way to go. Here he comes though, he's got massive speed and that was a demonstration.
Heat 4 – Mateusz Rudyk wins!
Hsiegh Nien Hsing (Chinese Taipei)
Sam Dakin (New Zealand)
Mateusz Rudyk (Poland)
Third place Rudyk the big favourite in this heat, but don't discount 7th place Dakin. All eyes on Rudyk in the rear position, but he takes it on quite early as Dakin jumps on his wheel. Rudky comes round Hiseh with half a lap and Dakin can't do better than within half a bike length. Not bad, but Rudyk was in control all the way.
Heat 5 – Matthew Richardson wins!
Lars Romijn (Netherlands)
Matthew Richardson (Australia)
Vasiljus Lendel (Lithuania)
It's the always entertaining, lively looking, the one and only Vomit Comet, Matthew Richardson. I'm afraid I'm not giving these two any chances against the big Australian, even with him starting from middle position. But they're ducking and weaving early on, Romijn playing about a bit, before Richardson decides enough is enough with a lap to go. He gets a gap and is in no danger of losing it. He has time to glide over to the rail and celebrate waaaay before the line. He's going to have fun, I think.
Heat 6 – Harrie Lavreysen wins!
Harrie Lavreysen (Netherlands)
Melvin Landerneau (France)
Ronaldo Singh Laitonjam (India)
It's the man who has worn this jersey more than anyone else, and who is in no danger of losing it, with his 24 point lead coming into this weekend. But the other two are going to at least give it a go, because what else can they do? Ronaldo goes early, and catches Harrie napping a bit. Into the last lap Lavreysen has no problem finishing that one off, in similar style to Richardson. Important to expend no more energy than necessary in this game, and Jo Rowsell thinks he rode that within himself.
ROB HATCH IS BACK ON COMMS
Not that Jo Rowsell and Ed Clancy didn't do a grand job last week, but there's no-one like Rob.
THIS EVENING'S RACECARD
Because why bother typing it out when someone else has gone to all this trouble?
It's the same as the previous weeks, only in good old GMT:
HELLO (FROM) LONDON
Welcome to live coverage of the penultimate evening's racing in this year's UCI Track Champions League. After the thrills and spills of the previous three rounds in Majorca, Berlin and Paris respectively, it's the turn of the Lee Valley Velopark in London to host the world's top track riders.
It's the big one, before the bigger one, that will go one further fifth of the way towards deciding who will take home the velodrome shaped trophies and slightly suspect sky blue skinsuits.
And on top of the overall results there are valuable bragging rights and the big M, "MOMENTUM" to carry with them into 2024. (Hint: Olympics)
Each corner of this competition, men's and women's, sprint and endurance has a maximum of 80 points on offer which means, as Ellesse Andrews told me the other day, that anything can happen. (Within reason. Both of our previous male endurance champions are near as dammit out of the running to take a second title.)
Every single rider, however, does have four whole chances to win something. Most of them won't but where we are now, before it all kicks off, hope springs eternal. We kick off in five.
Before we get started with tonight's racing, here's how the standings look…
OVERALL STANDINGS AFTER ROUND 3
1. Katie Archibald 102 points
2. Anita Yvonne Stenberg 90
3. Maggie Coles-Lyster 82
4. Lily Williams 81
5. Sarah Van Dam 66
1. Ellesse Andrews 105 points
2. Alessa-Catriona Propster 96
3. Emma Finucane 63
4. Nicky Degrendele 61
5. Martha Bayona 60
1. Dylan Bibic 96 points
2. Jules Hesters 70
3. Eiya Hashimoto 69
4. Mark Stewart 59
5. Will Tidball 57
1. Harrie Lavreysen 117 points
2. Matthew Richardson 93
3. Mateusz Rudyk 83
4. Tom Derache 67
5. Callum Saunders 45
The UCI Track Champions League is back for season three. You can watch it all live and on demand on discovery+. We will also have extensive coverage across eurosport.com.