Katie Archibald is "the most naturally talented rider I've trained with", reckons former GB team-mate and now Eurosport commentator Joanna Rowsell.
Archibald is in London this weekend as she goes for the latest addition to her considerable palmares, the Endurance title at the 2023 UCI Track Champions League.
She boasts a lead of 12 points in the standings as the Lee Valley Velopark hosts a double header as the culmination of the TCL season.
And Rowsell, who rode with Archibald at Olympic and world level, looked back on when the now 29-year-old first started out on the track.
"I first met Katie back in 2013, before she got on the GB squad, and that was when we had the national championships in Glasgow, which is where she's from," Rowsell told Eurosport.
"And my first impressions of Katie – despite the fact she's six years younger than me – I honestly thought she was older than me just because she seemed so mature, so switched on, and I was impressed with her from day one.
"She joined our squad later that year and it was definitely a steep learning curve for her coming into the team pursuit squad, but she was clearly super, super talented.
"Her first world championships was in 2014 and we won the team pursuit there. She was just an excellent team-mate to have, she was always really honest, I could always really rely on her to give honest feedback to other team-mates and to the coaches as well, so a really good person to work with.
"She was so mature, she stepped straight into the squad. Physically she was developing but on that emotional intelligence side, straight away we could rely on her to be a good team-mate on race day.
"I would say she's the most naturally talented rider I've trained with. Her natural raw talent is awesome.
"But also her ability to study races and analyse, she would religiously watch back videos, look over races, see what people were doing right and wrong.
"She would train really hard, but you could always really rely on her on race day to really step it up. However good she was in training, on race day there was always going to be another level from Katie."
Rowsell also spoke about Archibald's legacy as more than just a cyclist, discussing her role model status to many up-and-coming riders on the circuit.
"[At the start of her career] she was very much learning from us older riders but now she's one of the older riders on the team, she's a rider that everyone looks up to, and I think that's a difficult thing to do because no one comes into sport thinking I want to be a role model to other people," Rowsell said.
"She's definitely got that label for herself, and I think that can be a difficult thing to manage sometimes, but I think she's really taken that in her stride.
"Despite the fact she is one of the most decorated riders part of the GB team still competing, she just seems like a dead normal person, she's a lot of fun to hang around with.
"What I've learned from her is her ability to hurt herself when it comes to a race, really sort of turn herself inside out is super impressive.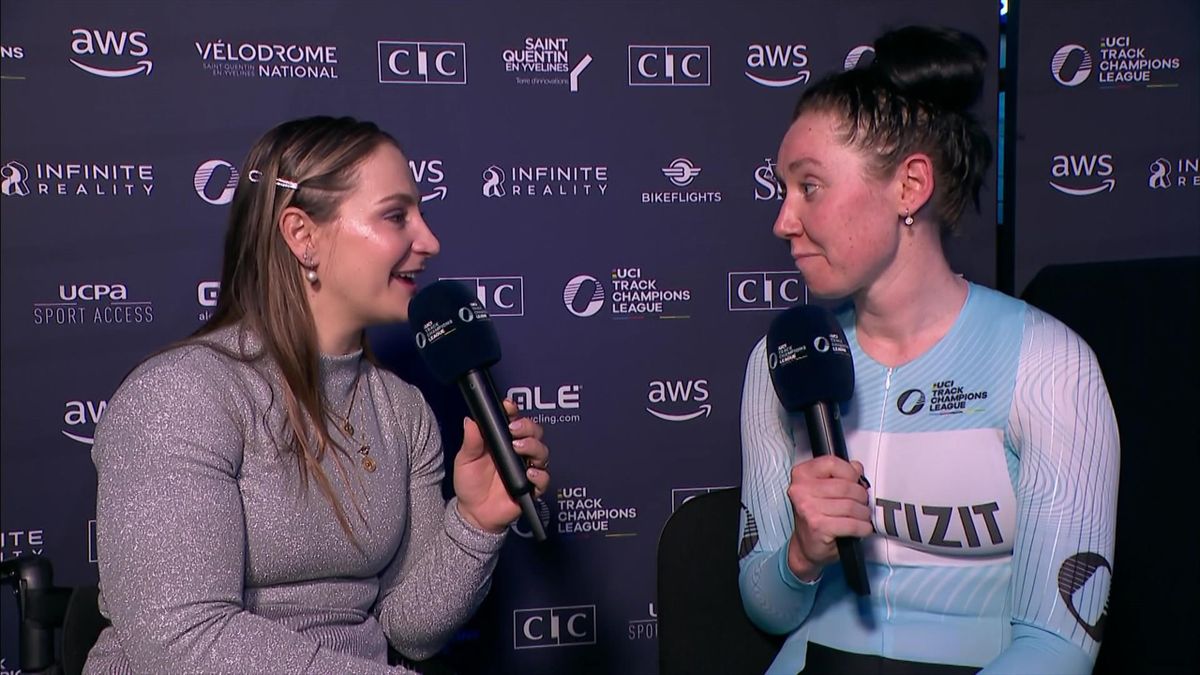 "Also what I love about Katie is her honesty and her authenticity, she's got that ability to be vulnerable which I always think is really fascinating.
"I think when you're team-mates with people, it can be easy if you've got problems in your life to shut away and not share those, but she's always been very open, and when you've got someone that's really open with you and prepared to be vulnerable, that can make them a far better team-mate as well.
"She was an inspiration for me while I was still riding, and she's an inspiration for me now that I'm retired.
"It's really inspiring to see how motivated she is coming into the Paris 2024 Olympic Games.
"Watching her it feels like every bike race is the first one she's ridden. That enthusiasm, motivation and hunger is still there like it was on day one."
The UCI Track Champions League is back for season three. You can watch it all live and on demand on discovery+. We will also have extensive coverage across eurosport.com.