Novak Djokovic said that he had enjoyed a "very, very special" year after adding the ATP Finals to his three Grand Slams and two Masters for his 2023 haul.
For the 36-year-old Serbian, who finishes the season as world No. 1 once more, it ends what has been a sterling year, even by his standards.
Djokovic has claimed the Australian Open, French Open and US Open, as well as the Cincinnati Masters, Paris Masters and the Adelaide International 1. He also reached the final of Wimbledon where he lost to Carlos Alcaraz, who has at times challenged him for the No. 1 ranking over the last year.
Speaking after his win, Djokovic reflected on his success and the challenges posed by younger players such as Sinner and Alcaraz.
He said: "Very, very special. One of the best seasons I've had in my life, no doubt. To crown it with a win against the hometown hero Jannik who has played amazing tennis this week. It's phenomenal.
"You know, I'm very proud of the performances these last two days against Alcaraz and Sinner.
"You know, probably the best two players in the world, you know, next to me and [Daniil] Medvedev at the moment and the way they have been playing, I had to step it up. I had to, you know, win the matches and not wait for them to hand me the victory, and that's what I've done.
"I think I've tactically played different today than I have in the group stage against Jannik – and just overall, a phenomenal week."
His seventh win is a record, and it is one his children were able to watch as spectators.
As one of the oldest players left on the tournament, he discussed what it meant to have them present.
"Yeah. You know, they've been so good," he added. "You know, the last couple of days watching tennis, and, you know, it's a thrill. I always wanted to perform in front of them once they reached the age that they are aware of what's going on, and I think this is the age right now.
"They're both conscious of what's happening, and you know, I'm so, so grateful to be a father of these two wonderful angels. They've blessed me with so much happiness and joy in my life and love, and you know, they give me strength, no doubt."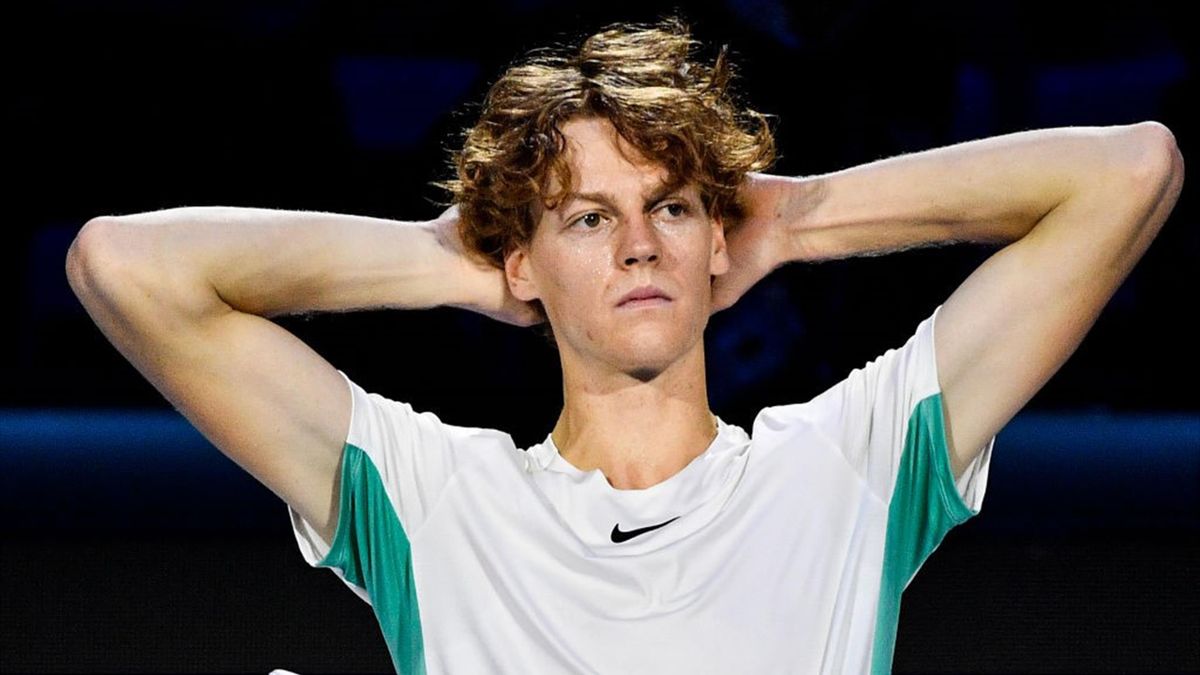 Sinner conceded Djokovic "deserved to win" the encounter, admitting he had made some mistakes.
"Today he played really, really good, especially from the back of the court," the world No. 4 said. "But I think today I was not that sharp in certain moments and I felt that I dropped a little bit physically.
"When you drop a little bit against the best player in the world, he makes it look like it's a big difference. I tried to stay there. I tried to serve good. I made a couple of mistakes, maybe some concentration mistakes. On 4-3 I missed an easy forehand. But still, there was a lot of tension.
"For one and a half sets, he served really, really good. So it was tough to play, but I was enjoying it out there. He deserved to win today. He played better and in the important moments."
Sinner added: "Today I saw that I still have to improve. I believe that he makes me a better player, like all the other players who I lost to. After the Davis Cup, I have one month to work on things where I have to."
The 22-year-old enjoyed a successful season despite his defeat in Turin, winning four ATP titles, including the Canadian Open.
Stream the 2024 Australian Open live and on demand on discovery+.