Quarterback Michael Penix Jr. threw for two touchdowns and ran for another, and No. 5 Washington pitched a shutout in the second half to rally for a 35-28 win over No. 13 Utah Saturday.
The Huskies (10-0, 7-0 Pac-12, No. 5 CFP) extended the second-longest active win streak in the nation to 17 games and reached 10-0 for only the second time in school history. The only other time came in 1991, when the Huskies claimed a share of the national title with Miami.
Penix wasn't at his best on a blustery day on the shore of Lake Washington. But he made enough big plays in the pass game and allowed Washington's defense to make key adjustments at halftime after being unable to slow down the Utes in the first half.
Penix hit Rome Odunze on both of his touchdown throws and ran for a 2-yard TD in the first quarter. Penix was 24 of 42 passing for 332 yards. Odunze had three catches for 111 yards, and Dillon Johnson rushed for 104 yards a week after running for 256 yards against Southern California.
Washington took a 33-28 lead on Penix's 33-yard touchdown pass to Odunze in the third quarter and appeared on the verge of extending the lead only to see linebacker Alphonzo Tuputala return an interception 76 yards before dropping the ball at the 1-yard line on his way into the end zone. Washington ended up getting a safety on the next play and had a 35-28 lead after three quarters.
Washington had a chance to extend the lead to 10, but Grady Gross's 32-yard field goal attempt was blocked by Utah's Connor O'Toole with 1:38 left. But on fourth and 10, Utah quarterback Bryson Barnes was intercepted on a desperation throw near midfield.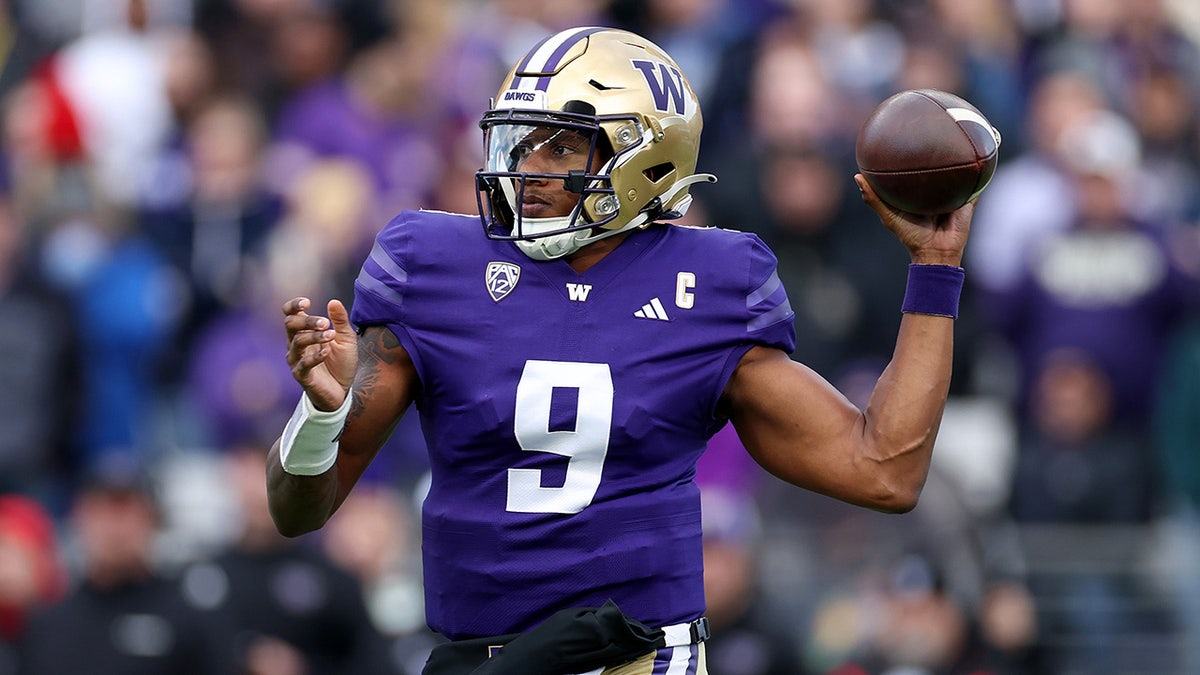 Barnes was the better quarterback in the first half, hitting on 13 of 17 passes for 238 yards and touchdown passes of 6 yards to Miki Suguturaga and 53 yards to Sinoe Vaki on a screen pass. Barnes also hit DeVaughn Vele on a 68-yard strike late in the first half to set up Ja'Quinden Jackson's second touchdown run that gave Utah (7-3, 4-3, No. 18 CFP) a 28-24 lead at halftime.
Utah's offense disappeared in the second half as Washington was able to get more pressure on Barnes. Barnes finished 17 of 30 for 267 yards, and the Utes had just 90 yards and four first downs in the second half.
MICHIGAN STARS, ALUM TOM BRADY HAVE ONE-WORD RESPONSE TO JIM HARBAUGH'S PUNISHMENT
DROPPED EARLY
Tuputala had what appeared to be a second pick six in the past four games for Washington.
But he came up one yard short.
Tuputala was on the verge of giving Washington a two-score lead after intercepting Barnes. But Tuputala dropped the ball at the 1-yard line as he was going into the end zone. While he celebrated with teammates, Utah offensive lineman Michael Mokofisi jumped on the loose ball, giving the Utes possession.
Washington quickly regained momentum as Utah running back Jackson was tackled in the end zone on the next play for a safety.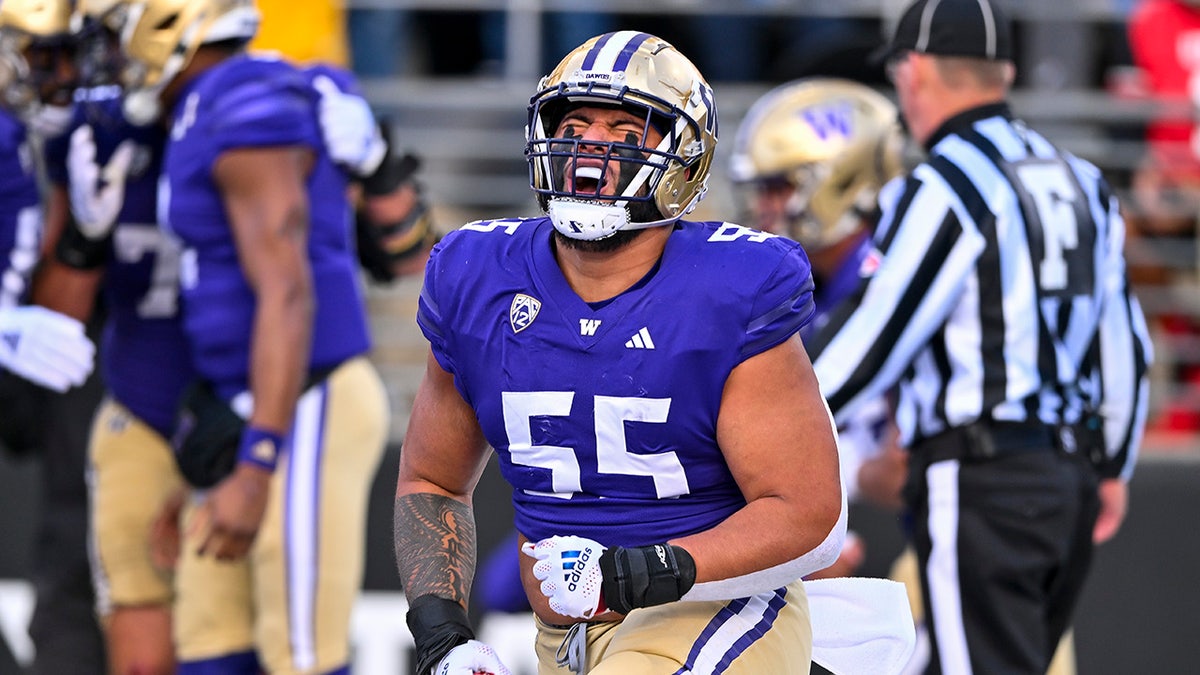 THE TAKEAWAY
Utah: Barnes' career high in yards passing was 235 and came in the Utes' win at Southern California last month. He topped that mark in the first half but couldn't keep it going in the second half. Utah had 306 total yards in the first half, a mark it failed to reach against Florida, UCLA, Oregon State and Oregon.
Washington: The Huskies were 9-0 in 2016 when USC visited and beat Washington 26-14. The Huskies still managed to get to the College Football Playoff that season.
UP NEXT
Utah is at No. 21 Arizona Saturday.
Washington travels to No. 12 Oregon State Saturday.