Alex Corretja believes Holger Rune already "feels like a big star" ahead of his ATP Finals clash with Novak Djokovic on Sunday – and the Eurosport pundit warns not to "underestimate" the Danish player.
The pair meet in Turin in their first match of the tournament, and while Djokovic is the world No. 1 once more, Rune just made the cut in eighth spot.
While Djokovic has again been the dominant man on the tour, the 20-year-old has had losing final appearances at the Monte-Carlo Masters, the Italian Open, and also a win at the Bavarian Open this year.
He told Eurosport: "You know why? Because Holger feels like a big star. I think you need to have someone next to you that gives you the feeling that he knows what you feel. And Boris Becker, for sure, he feels that way, too. I mean, he was a superstar. He's still a superstar.
"I think when Holger talks about his expectations of winning majors or becoming No. 1 or whatever, if he has Boris Becker next to him, who he's been there, he's been the best, and he's been also a huge and great coach.
"He's understanding him and he's not going to look at him as if he is being cocky or arrogant. No, he's looking at him and answers: 'Yes, we can do that, and I'm going to help you to do that.'
"And the start of the relationship has been great. It's been great because you don't need to win right away, like every match you play. I think it's good when you lose one of the matches also to understand that the process needs a little bit of time and the ideas and the mentality that he's trying to bring will need a little bit of time to assimilate. This is the best.
"When it takes a little bit of time, it costs you and you appreciate it more. So I think the Rune-Becker combination, it's an absolute bomb and it's absolutely great for both of them."
Corretja believes that Rune is feeling good ahead of the competition in Turin and stresses that he shouldn't be overlooked.
"I think among all the players in the field, I think Rune might be the one that feels more, let's say, enthusiastic or more motivated or more happy that the ATP Finals is coming," he said.
"I think he's a little bit refreshed. He's had tough moments during the year with some injuries. It wasn't good. The summer time he struggled a little bit and then he found this combination with Boris. So you see him again, he's healthy and he's fresh.
"And for sure, every practice he goes to, he's got Boris Becker next to him telling him things that are new for him. And this is something that I think might give him an extra feeling of power.
"Don't underestimate Holger because he's fearless. He doesn't care about playing Djokovic in the first round. He's going to go there thinking that he can do well. That doesn't mean that he's going to win the tournament, but that means that he's got so much confidence in himself."
Rune himself would not be drawn on how he beat Djokovic at last year's Paris Masters as he prepares to meet him at the ATP Finals.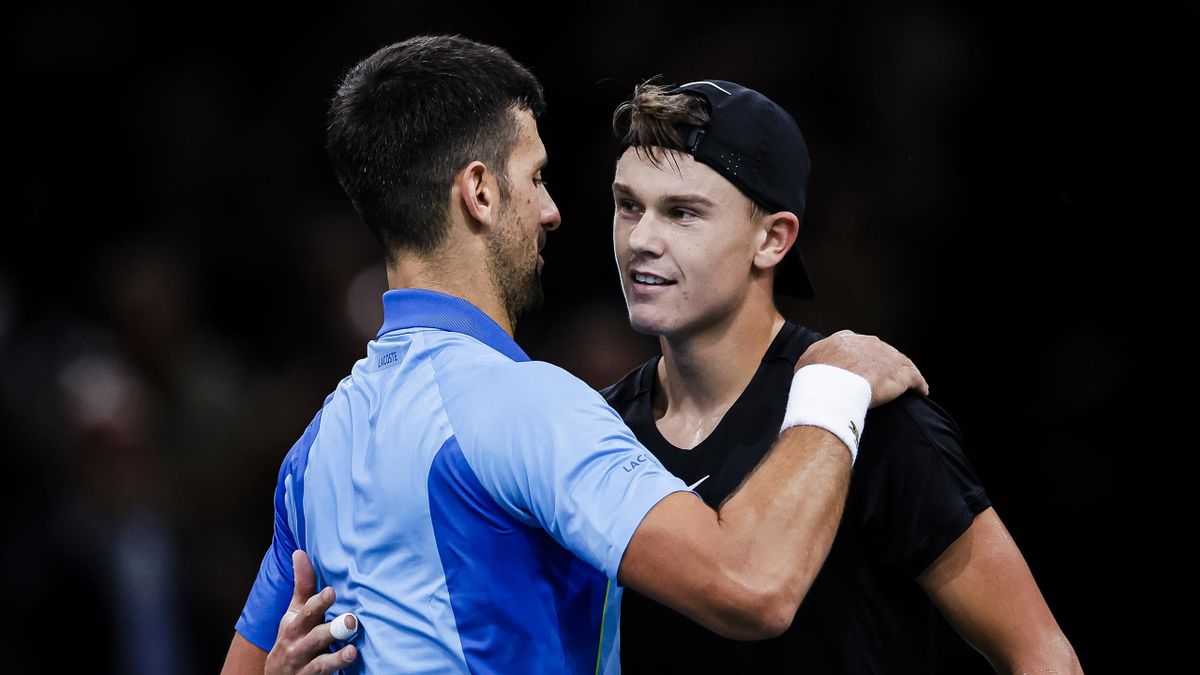 Rune won 3-6, 6-3, 7-5 in an impressive comeback victory last November, but he would not give any details about his approach, given he is facing the Serbian once more.
He said: "I don't want to say exactly what I did because I'm facing him on Sunday. The key word is for sure keep fighting until the end because tennis is never over until the last point. Yeah, I think in this match I took my chances, I prevailed when it mattered and it was a lot of fun also.
"You know, to date it's the biggest tournament win of my career so it's definitely a tournament I can look back at and admire a lot and still give me goosebumps. But yeah, now we're here, it's a new match, new tournament and [I'm] happy to be around these great players and try to give my best here."
Stream the 2024 Australian Open live and on demand on discovery+.