FIRST ON FOX – Vivek Ramaswamy has repeatedly said in recent weeks that his long-shot campaign for the Republican presidential nomination will be lifted by small dollar, grassroots donations.
Now, the first-time candidate is highlighting new fundraising figures to prove his point and touts that "we're just shattering GOP norms."
Ramaswamy's team reports that in the month since the campaign's launch they've hauled in donations from more than 10,000 individual contributors, with nearly a third of them being new or first-time political digital donors.
And according to the fundraising figures, which were shared first with Fox News on Tuesday, donations came from all 50 states, with an average contribution of $45.39.
RAMASWAMY CALLS LOOMING TRUMP INDICTMENT 'NATIONAL DISASTER' BUT URGES AGAINST PROTESTS IN THE STREETS
"First-time donors to the party are off the charts for us," Ramaswamy spotlighted. "I'm told that it's supposed to be in the low single digits in terms of percentage of first-time donors to the GOP."
"This is just organic…I think there's something unique going on," Ramaswamy emphasized in an interview with Fox News Digital. "This sort of takes a sledgehammer to the roof of expectations of what we were supposed to do in the first month, which is great."
RAMASWAMY STARTS SPENDING HIS MILLIONS AS HE MAKES BIG INVESTMENT IN HIS 2024 CAMPAIGN
Ramaswamy, a multi-millionaire health care and tech sector entrepreneur, conservative commentator, and crusader in the culture wars, announced his candidacy during a live interview on Fox News' "Tucker Carlson Tonight" on Feb. 21. After his launch he immediately made campaign stops in New Hampshire and Iowa, which lead off the GOP presidential nominating calendar. He's also campaigned in South Carolina, which holds the third contest in the Republican primary schedule, and has plans to repeatedly return to all three early voting states.
Ramaswamy, who's worth more than half a billion dollars, says that the first leg of a seven-figure ad blitz in Iowa and New Hampshire is underway. And he says that thanks to the new fundraising metrics, "we're confident to sort of step on the gas when it comes to making investments….especially in the early states."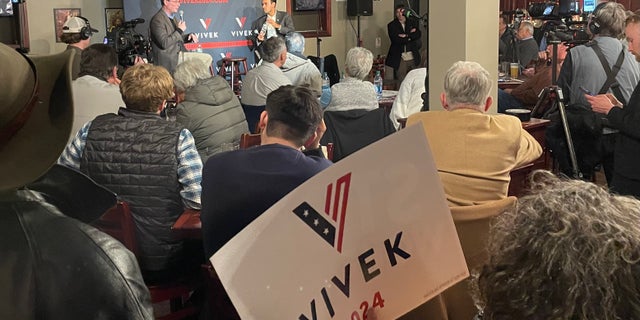 But he stressed that "the grassroots activation is going to be key in Iowa and New Hampshire. Yes I've made a heavy investment in the campaign myself but the thing that is already lifting this up is indeed the grassroots activation and I think we're seeing that both in the response we're getting on the ground but also in terms of the fundraising data to back it up."
Ramaswamy, a 37-year-old son of immigrants from India and the author of "Woke, Inc.: Inside Corporate America's Social Justice Scam," has made "reviving the missing national unity" a centerpiece of his month-old presidential campaign. 
RAMASWAMY SAYS GRASSROOTS WILL PROPEL HIS 2024 CAMPAIGN
He's calling for bureaucratic reform; ending affirmative action; shutting down the Department of Education; dismantling what he describes as "this climate religion;" and using the military to "actually protect our border, actually use it to solve the fentanyl crisis by treating the cartels south of the border as the terrorists that they are."
Campaign CEO Ben Yoho argued that "Vivek is doing what other Republican candidates appear afraid to even say." And he emphasized that "the momentum we are seeing in digital fundraising shows that the grassroots are throwing their support behind the outsider candidate."
Grassroots fundraising breadth and public opinion polling are two crucial metrics used to gauge a candidate's popularity and strength. And both will likely be used by the Republican National Committee this summer to determine which GOP contenders will make the debate stage at the presidential primary showdowns.