Departing White House chief of staff Ron Klain said he expects President Biden to seek re-election in 2024, though the president has not formally announced his candidacy. 
"As I did in 1988, 2008 and 2020, I look forward to being on your side when you run for president in 2024," Klain told a group of staff and press at the White House Wednesday as he steps away from official duties.
Biden smiled at the remark, which attracted loud applause from incoming White House chief of staff Jeff Zients and the gathered staff.
It's unclear whether Klain will have a formal role on Biden's as yet unannounced campaign, but he has worked with Biden for decades as a key political advisor.
TRUMP, NEWSOM, DESANTIS? A LOOK AT WHO'S RUNNING, AND WHO'S OUT OF THE 2024 PRESIDENTIAL ELECTION
After working with Biden in the 1980s as chief counsel to the Senate Judiciary Committee, Klain was an advisor and speechwriter for Biden's unsuccessful 1988 and 2008 campaigns for president. He was involved in numerous Democratic presidential campaigns and the Clinton and Obama administrations. 
Klain was a critical player in Biden's most recent presidential campaign, serving as an advisor on the coronavirus response throughout his 2020 run.
Biden has said for months that he intends to run for re-election since December 2021, when he told ABC News that his decision might come down to his health. "If I'm in the health I'm in now, if I'm in good health, then in fact, I would run again," Biden said.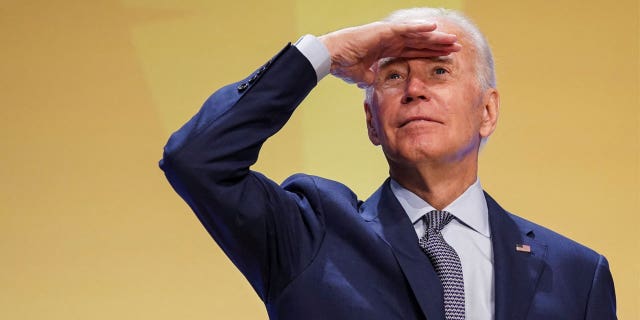 Just after the 2022 midterm elections, Biden said he would make a final decision by early 2023. "I think everybody wants me to run, but we're going to have discussions about it," Biden said on Nov. 9. "I hope Jill and I get a little time to sneak away for a week between Thanksgiving and Christmas, and my guess is it will be early next year when we make that judgment."
SOUTH CAROLINA'S NIKKI HALEY TO LAUNCH 2024 PRESIDENTIAL CAMPAIGN, JOINING TRUMP IN NOMINATION HUNT
In January, sources confirmed to Fox News that an announcement on Biden's 2024 presidential campaign plans would not come until after the State of the Union on Feb. 7th. 
A re-election victory in the 2024 presidential race would make Biden the oldest commander-in-chief to sit in the Oval Office. Biden would be 86 at the end of his would-be second term as president.
Among Republicans, the pool of contenders is also starting to take form with former President Donald Trump in the race since November and former U.N. Ambassador Nikki Haley expected to announce her run on Feb. 15th.