The Biden administration was roasted this week after it unveiled an initiative offering Americans the chance to win thousands of dollars for submitting a video showcasing their electric vehicle (EV).
The Environmental Protection Agency (EPA) — which has pursued a regulatory regime that experts say will force more EV purchases in the coming years — announced the so-called "EV Video Challenge" on Tuesday, offering a total of $13,500 to Americans. Almost immediately after the announcement, the agency was hit with criticism and accused of hypocrisy.
"How is the Biden Administration's push to mandate Progressive Lifestyle Choices working out?" the Alliance For Consumers, said in an X post. "The EPA is now *paying people* (with taxpayer dollars) for positive stories about EVs actually working … Yes, you read that correctly."
"Check it out! The EPA is giving away YOUR money to wealthy EV owners; take a picture of your overpriced government-subsidized EV," added Jason Isaac, the founder and CEO of the American Energy Institute. "I'm guessing bonus points if it's at a government-subsidized charging station on a non-racist road in an #EnvironmentalJustice community. #ClimateActionNow."
NEW REPORT UNMASKS TRUE COSTS OF ELECTRIC VEHICLE MANDATES: 'REMAIN MORE EXPENSIVE'
According to the EPA, the video challenge will be divided into three categories — personal mobility, electric vehicle and electric bus — and each category will have three winners, meaning a total of nine winners will be selected. In each category, the first prize will be worth $3,000, the second prize will be worth $1,000, and the third prize will be worth $500.
"Electric vehicles with quiet motors and quick acceleration can be fun to drive or ride in, but like any new technology, they can take some getting used to at first," the EPA said. "Though much is the same (and seamless) when moving from a gasoline- or diesel-fueled vehicle to one that uses electricity, there are some differences, like plugging in to recharge or avoiding some conventional maintenance needs."
BIDEN ADMIN FACES PRESSURE TO DROP ELECTRIC VEHICLE MANDATE REGULATIONS: 'THIS IS ALARMING'
"Learning about the benefits of electrified transportation and sharing this first-hand knowledge can play a critical part in getting us on the path to a sustainable future," it added. "This is your opportunity to share your experiences and your enthusiasm for electric vehicles with others who are curious."
The agency said a successful video may answer various questions like "How do you use this electric car, scooter, bus, in everyday life?" or "Why do you like it?" and "How did you overcome any challenges you may have faced?" It also noted that videos mentioning environmental or other benefits of their EV will receive extra points.
Submissions for the challenge close in late January, and winners will be announced shortly afterward. 
"Beyond Parody: the Biden Administration's ESG push is failing at such an alarming rate that the EPA is now offering to *pay people* for positive stories about EVs," Consumers' Research wrote on X.
"This is what desperation looks like: Using taxpayer dollars to prop-up a propaganda campaign supporting your failing agenda," the group's executive director Will Hild said in a separate post.
And other X users noted recent reports of EV battery explosions which fire officials nationwide have warned pose a serious hazard.
BEIJING-BACKED GREEN ENERGY FIRM IS EXPANDING IN US, POSING SERIOUS NATIONAL SECURITY RISK: REPORT
"This can't be helping our air quality," Darin Miller, a spokesperson for Sen. Ted Cruz, R-Texas, said.
In December 2022, the Environmental Protection Agency (EPA) finalized rules targeting heavy-duty trucks that the agency said were the "strongest-ever national clean air standards to cut smog- and soot-forming emissions" from such vehicles. The new standards went into effect on March 27 and will be implemented for new trucks sold after 2027.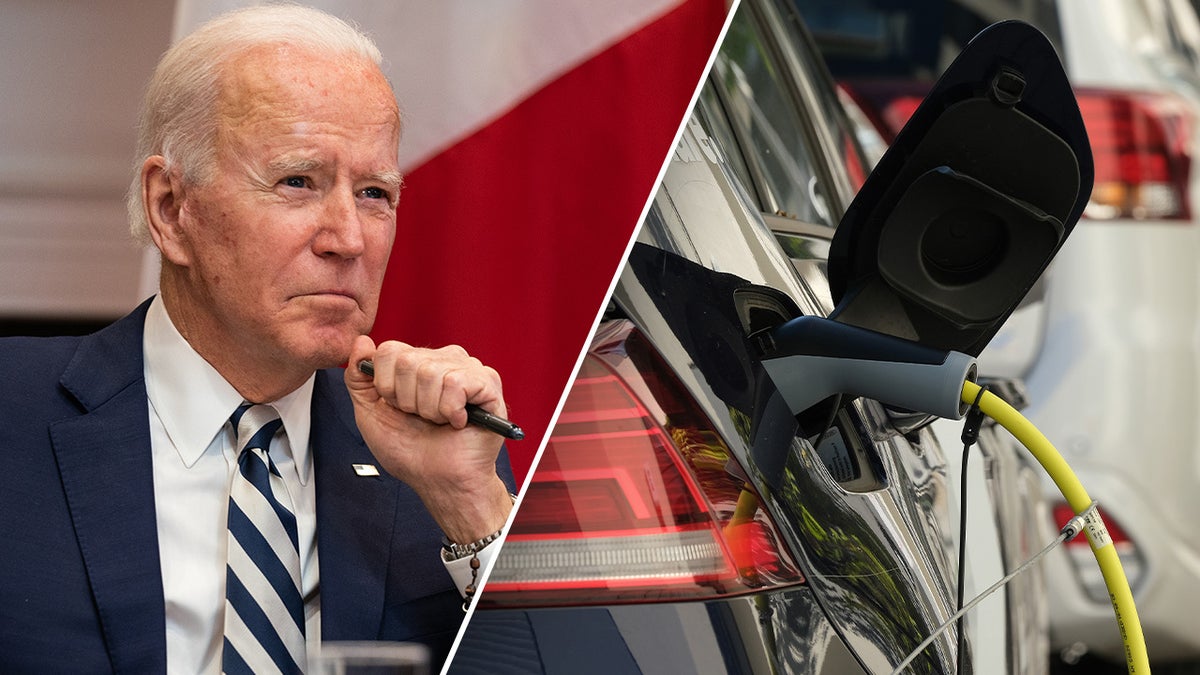 Then, in April, the EPA proposed the most aggressive federal tailpipe emissions rules on light- and medium-duty emissions ever crafted. If finalized and implemented, 67% of new sedan, crossover, SUV and light truck purchases, up to 50% of bus and garbage truck purchases, 35% of short-haul freight tractor purchases and 25% of long-haul freight tractor purchases could be electric by 2032, the White House projected.
The EPA reinstated California's authority under the Clean Air Act to implement its own emission standards and electric vehicle sales mandates, allowing other states to adopt California's stringent rules. The state then approved regulations that mandated all car purchases in the state — which leads the country in annual car sales — be electric by 2035.
However, according to a recent Texas Public Policy Foundation report, EVs remain far more expensive and less efficient than traditional gas-powered vehicles, and they would cost tens of thousands of dollars more if not for generous federal and state taxpayer-funded incentives.
"The Biden administration and leftist states such as California have pushed for widespread electrification in less than 20 years through government subsidies and coercive regulations, but the price you see in the lot is not the true cost of an electric vehicle," Isaac, from the American Energy Institute and who co-authored the report, told Fox News Digital last month.
"Electric vehicle owners have been the beneficiaries of regulatory credits, subsidies, and socialized infrastructure costs totaling nearly $50,000 per EV," he said. "These costs are borne by gasoline vehicle owners, taxpayers, and utility ratepayers, who are all paying a hefty price for someone else's EV."
Read the full article here