Police have identified a 25-year-old man in the alleged sexual assault of former Sen. Martha McSally (R-Ariz.), who in an emotional video Wednesday said she was grabbed from behind while jogging near Omaha, Nebraska.
Dominic M. Henton of Papillon, Nebraska, is wanted for one count of assault with intent to commit sexual abuse after allegedly ambushing McSally along the Missouri River late Wednesday morning, the Council Bluffs Police Department in Idaho said in a release.
Surveillance footage captured Henton closely following McSally over a pedestrian bridge and onto a paved trail while appearing to wear a black tracksuit and ski cap. After the incident, he was seen in the area without the hat and jacket, police said.
Henton is believed to be a transient and may frequent the riverfront area, on both the Iowa and Nebraska sides, said police, who urged anyone who sees him or is aware of his whereabouts to call 911.
"Grateful to (the) amazing team of detectives at Council Bluffs PD," McSally said in a statement posted to Instagram early Friday. "Dominic Henton, like I screamed at you yesterday (with profanity), you will not get away with this or try to harm and violate another woman. You picked the wrong target."
In an emotional video Wednesday, McSally, who has previously spoken out about being raped by a superior officer while serving in the Air Force, publicly recalled the violent assault and how she was ultimately able to fight the man off.
"I was in a fight-flight-or-freeze, and I chose to fight. I ran after him, I threw my water bottle at him, and I chased him into the brush, where he was then hiding as I called 911 and waited for the police to come," she said.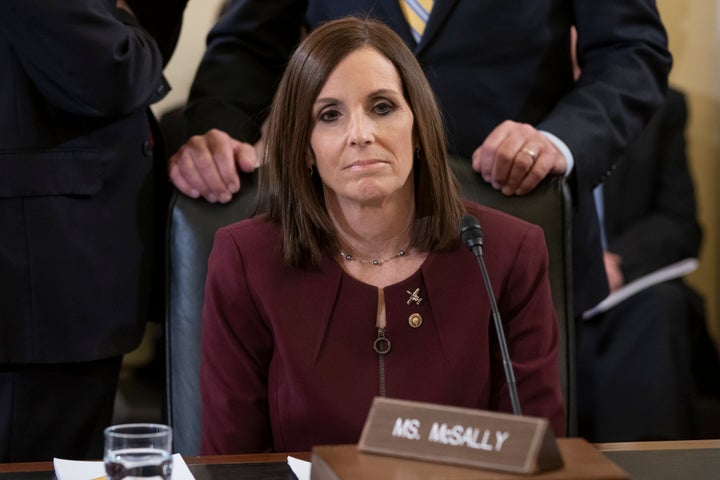 McSally said the incident triggered memories of past abuse she's experienced. In this incident, she expressed empowerment in being able to fight him off.
"In this case, I felt like I took my power back," she said. "He tried to take power from me, but I turned it on him, and he was running from me instead of the other way around."
McSally, who served 26 years in the Air Force, spoke out in 2019 about being raped by a superior officer. A year prior, she also alleged to The Wall Street Journal that she was sexually abused by her high school track coach when she was 17.
McSally left the Senate in 2020 after losing a special election for the late Sen. John McCain's seat.


Read the full article here