America's up-and-coming heroes are being granted a head start.
Six soldiers-in-training have received major scholarships to colleges of their choosing from multiple branches of the U.S. military.
The surprise scholarships were presented during the New York Jets' annual Salute to Service game at MetLife Stadium in New Jersey on Nov. 6.
MILITARY RECRUITS RECEIVE FULL-TUITION SCHOLARSHIPS TO ROTC SCHOOLS AT NEW YORK JETS GAME: 'TRULY GRATEFUL'
Lt. Gen. Jodi Daniels, U.S. Army Reserve chief and commanding general, announced the awards on the football field at the Monday night game, complete with big checks.
The U.S. Navy presented Jack Ryan Ventimiglia with $200,000 to attend Rensselaer Polytechnic Institute — and Lillie Jane Tyrrell with $200,000 for her studies at Yale University.
The Air Force granted Roman Concha and Caroline Rozmus $91,600 each for colleges that are yet to be decided.
NEW YORK JETS PAY TRIBUTE TO AMERICA'S MILITARY, VETERANS WITH ANNUAL SALUTE TO SERVICE GAME
The Air Force scholarships are awarded to all selected cadets through the In-College Scholarship Program (ICSP).
It funds college tuition for any public or private institution with an Air Force ROTC detachment.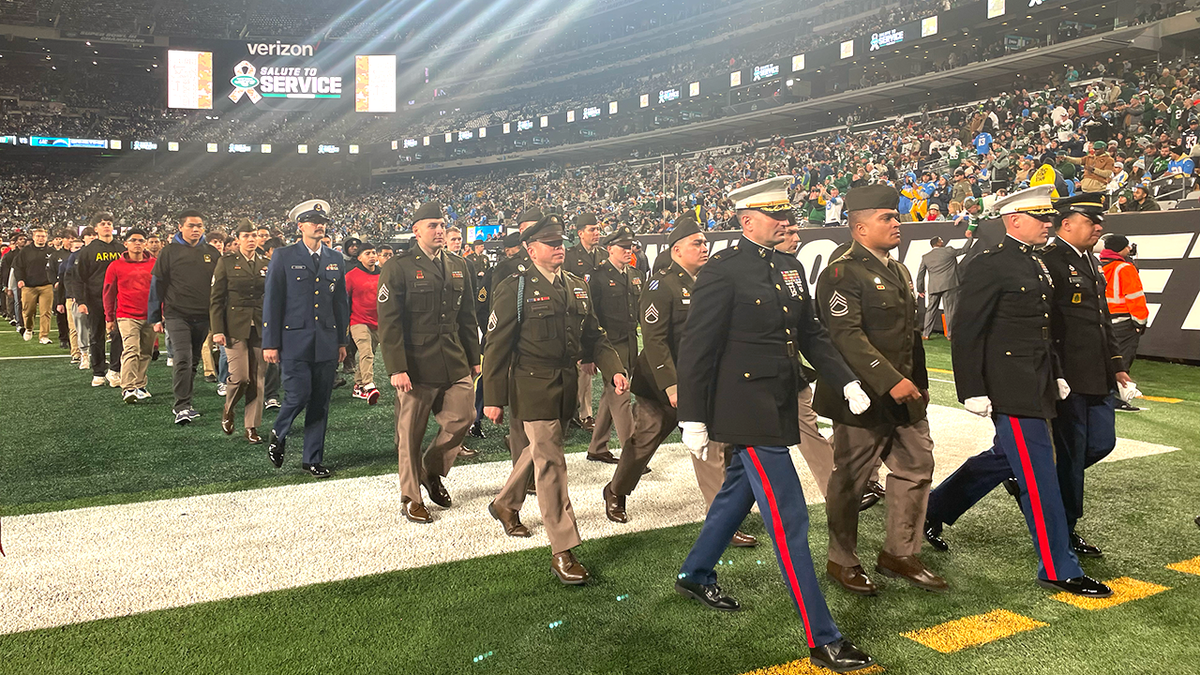 The U.S. Army Minuteman Scholarship was awarded to Daren Dash of Mastic, New York, and Jessica Renderos Flores of Brentwood, New York. 
They each received $307,092.
This scholarship program covers full tuition and fees between two and four years, or $10,000 per year toward room and board, at any college or university served by an Army ROTC program.
ARMY VETERAN SAYS FAITH IN GOD SAVED HIS LIFE AFTER 12 SUICIDE ATTEMPTS: 'SOMETHING STRONGER THAN MYSELF'
Recipients will also be granted an annual book allowance of $1,200 and a monthly stipend of $420 during their college attendance.
In an interview with Fox News Digital at the game, Dash shared how he's furthering his family's military legacy, as his father is an Army veteran and his brother is in the Air Force.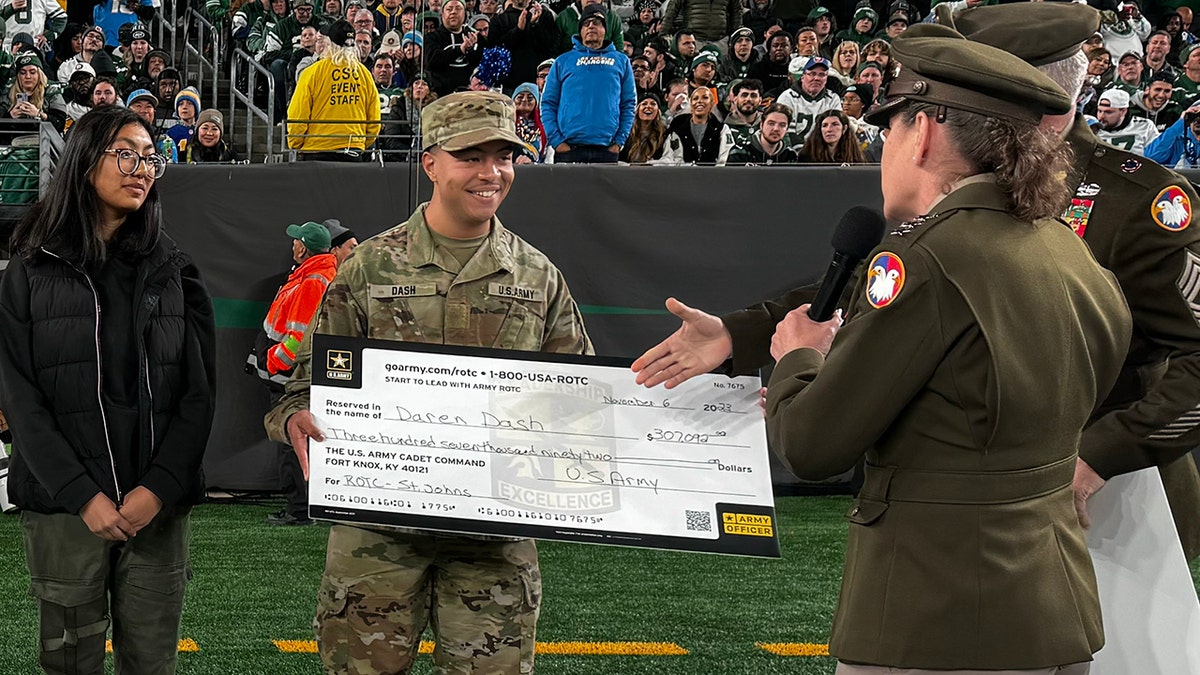 "Not only am I serving for my family, but also for the country," he said. "It feels great to be able to do that."
He added, "Not only do I know that I have the country's back, but the country also has my back."
TUNNEL TO TOWERS 5K DRAWS 40,000 PEOPLE TO HONOR 9/11 FIRST RESPONDERS IN NYC
Flores, a first-year student focusing on criminal justice at St. John's University, told Fox News Digital that she feels "super excited" and "thankful" for the opportunity.
"Getting a full ride to school is a once-in-a-lifetime opportunity," she said. "It's a huge honor to be able to serve our country."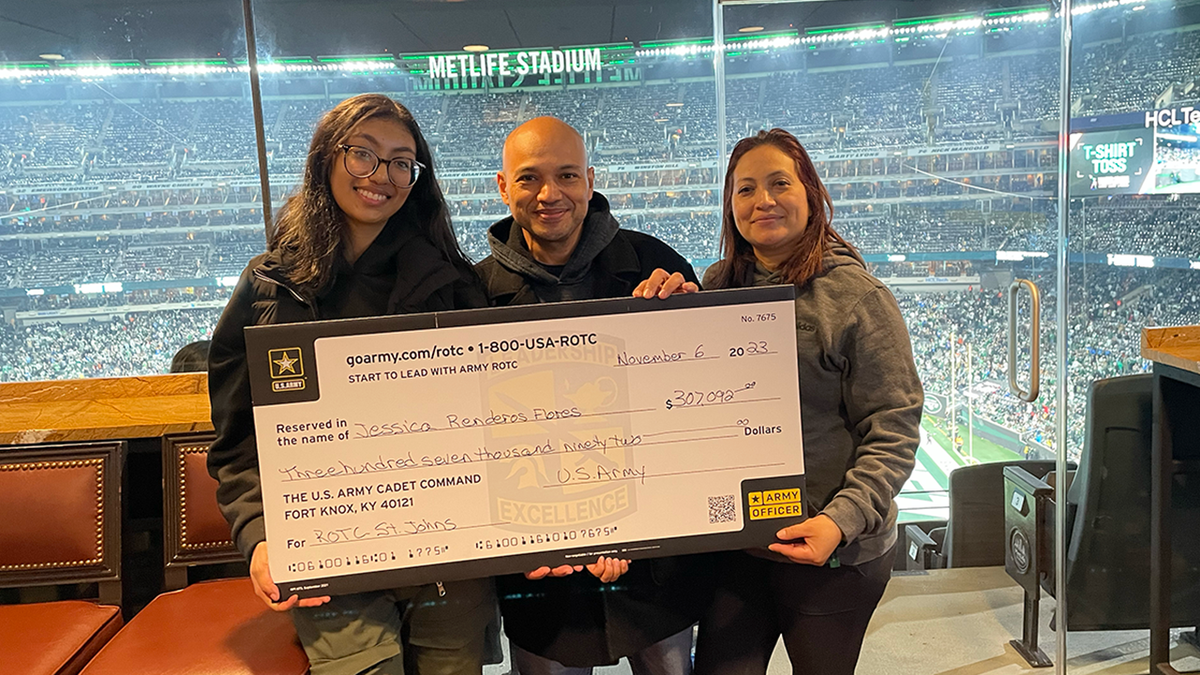 Lt. Gen. Daniels also spoke with Fox News Digital, explaining that the Minuteman Scholarship will entitle recipients to graduate with a "guaranteed Reserve commission."
She said, "As officers, they will be commissioned as a lieutenant."
US NAVY, MARINE CORPS JOINED BY IKE, A 'FACILITY DOG,' ABOARD USS WASP FOR MENTAL HEALTH BOOST
Daniels, the first female commander of an Army component, called these scholarships "amazing" for morale, as a fully paid college experience grants some "peace of mind" for what comes later.
The general noted that she is able to "see the future" of the Army Reserve through the eyes of these recipients, with boundless potential ahead.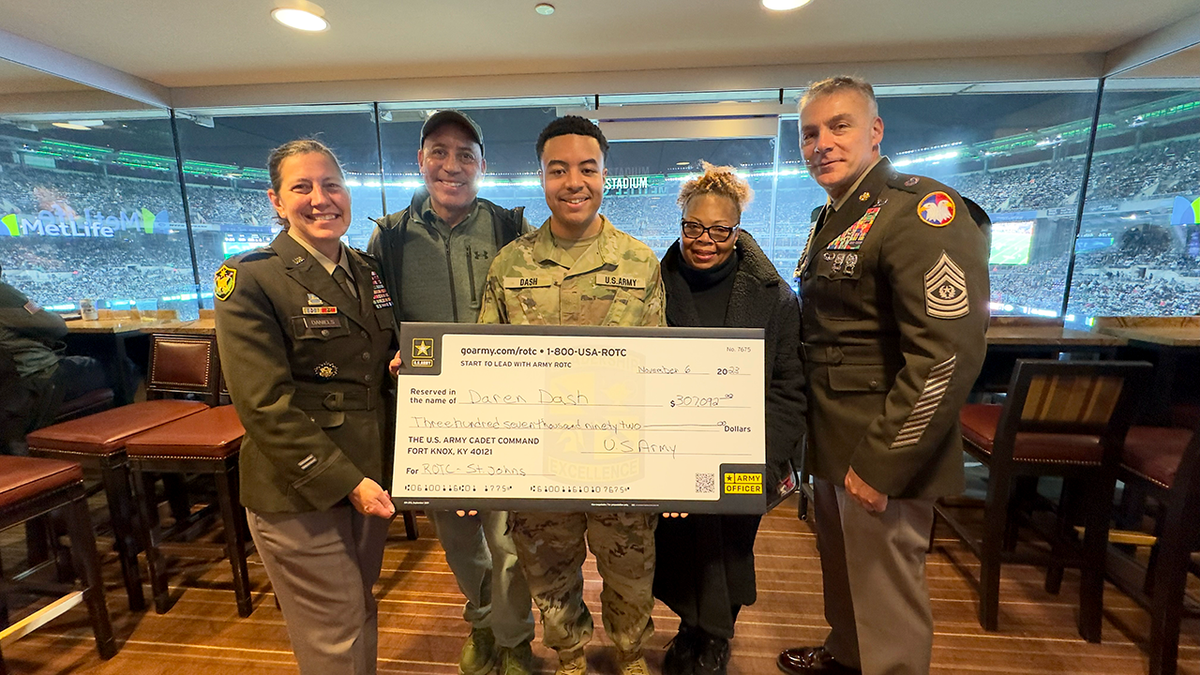 "The best piece of advice I have for folks is to not look at your next position, but the one after," she said. "And have people help you look at what those opportunities could be."
She also said, "Sometimes people may tell you something that you had no idea was possible."
US MARINE CORPS VETERAN WHO LOST LEGS IN AFGHANISTAN SAYS A NONPROFIT HELPED HIM STAY ALIVE
Daniels shared the story of how she was persuaded by previous bosses to complete her PhD and become a general officer.
"Because he thought I could do it, it built confidence in me," she said.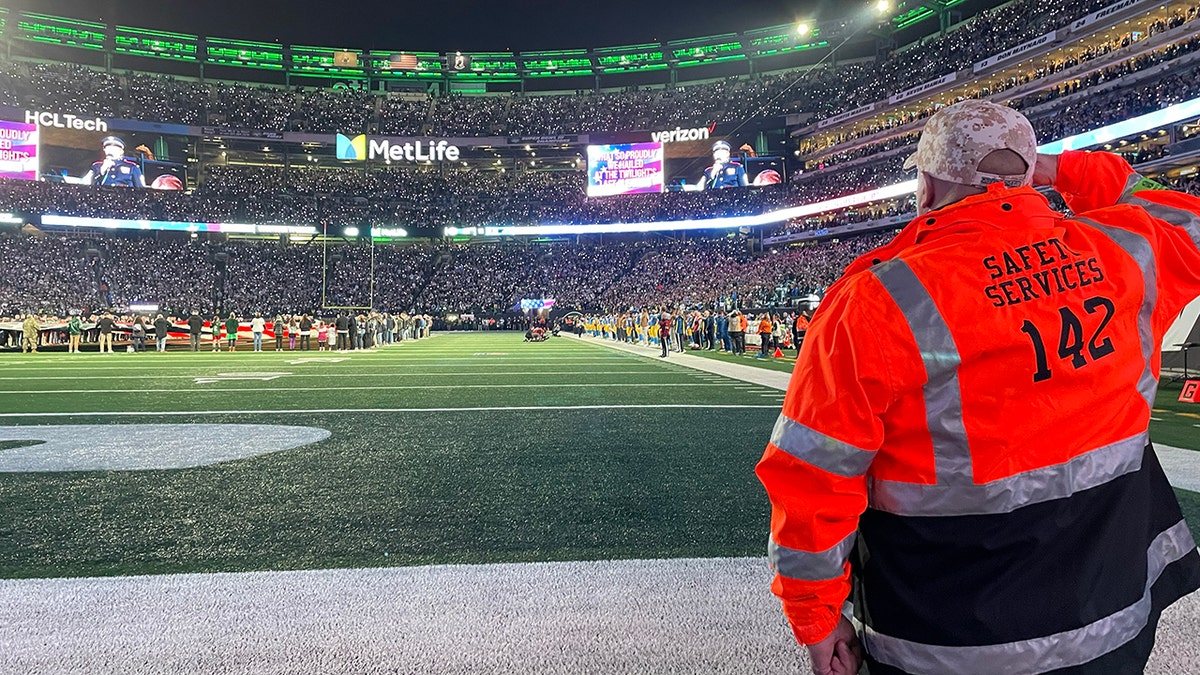 "The really neat thing about the Army Reserve is that you can have a civilian career while you have your military career at the same time — and so it's really nice to be able to grow across two different career paths simultaneously."
She added, "It's kind of an interesting way to forge your future."
The NFL's annual Salute to Service event featured several vibrant installations to show support for U.S. military veterans ahead of Veterans Day.
Each branch of the military, as well as local first responders, were present at the New York Jets vs. Los Angeles Chargers game, which kicked off with a marching band and fireworks.
The American flag was brought out onto the field by Gold Star, Blue Star and veteran families, as well as by future members of the Armed Forces.
Daniels also led an enlistment ceremony on the field, swearing in new military members with the traditional oath.
Army Reserve Command Sgt. Maj. Andrew Lombardo gave a "big thanks" to the NFL for its "continued support of our military and veterans" in a statement to Fox News Digital.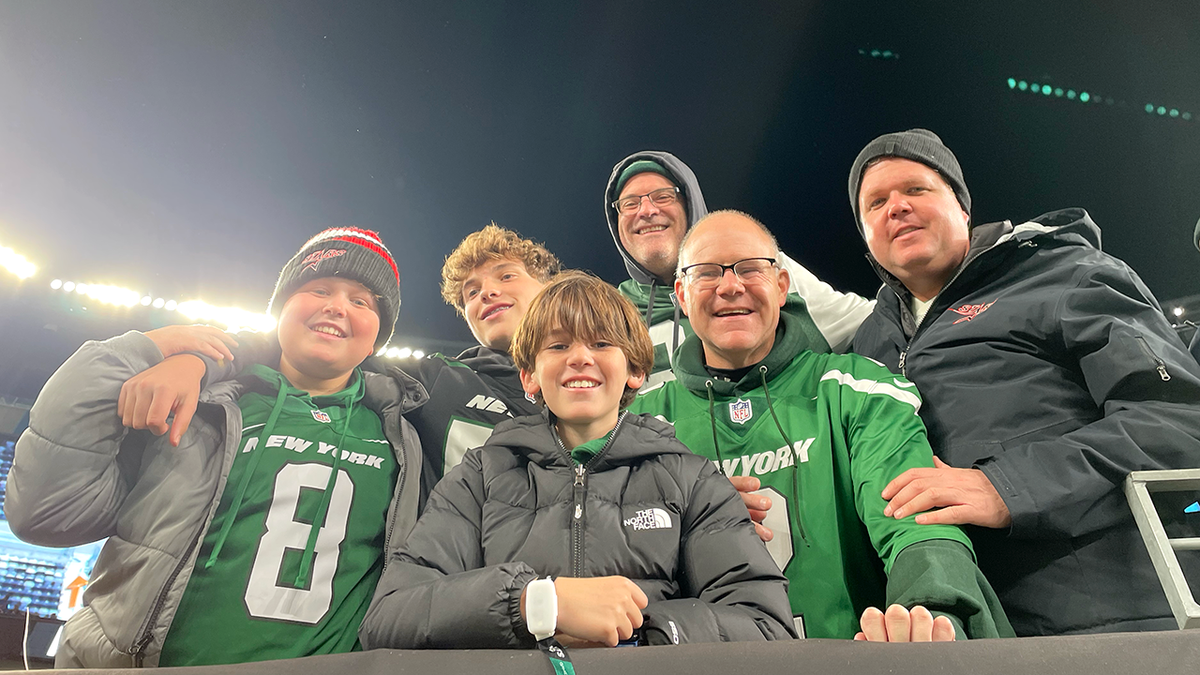 Lombardo shared "a special thank you to the families, communities and employers who support our military service members."
He emphasized that Veterans Day is meant to honor those who have "answered the call to service," as 2023 marks 50 years of the all-volunteer force.
"Congratulations to the newest members who took their enlistment oath," said Lombardo. 
"And congratulations to the fortunate college-bound students who received a full scholarship to their university from the military along with a guaranteed commission to one of the military services."
Jen Golotko of Fox News Digital contributed reporting. 
For more Lifestyle articles, visit www.foxnews.com/lifestyle.