Kindergarten teachers in a Pennsylvania school district are seeing double this year — as 17 sets of twins entered the school. And they're all members of the graduating class of 2036.
"There's usually a couple [of] sets here and there, which is not that abnormal," Morgan Weiser, mother of Ridge Park Elementary twins Mia and Logan, told Fox News Digital.
"But to have 17 sets in the incoming kindergarten grade for our district is kind of wild."
FIVE SETS OF TWINS BORN WITHIN 2.5 WEEKS AT NEW YORK HOSPITAL: 'RAINING TWIN BABIES'
It's a first for Colonial School District, which serves Conshohocken, Plymouth Township and Whitemarsh Township, northwest of Philadelphia.
"This is a very unique situation," said the district's community relations coordinator, Jessica Lester, to Fox News Digital. 
"In recent history, no one can recall this many sets of twins entering kindergarten at the same time," she added.
The phenomenon began unfolding over the summer, as the district's registrar started picking up on a trend.
TINY TEXAS TWINS ARE BORN IN TWO DIFFERENT YEARS, COURTESY OF A NEW YEAR
"She would periodically stop by my office to let me know the numbers of twins registered for kindergarten because she knew it was so unusual," Lester said. 
"Each time she stopped in with a new number, I figured I wouldn't hear from her again, and then she would give me another update."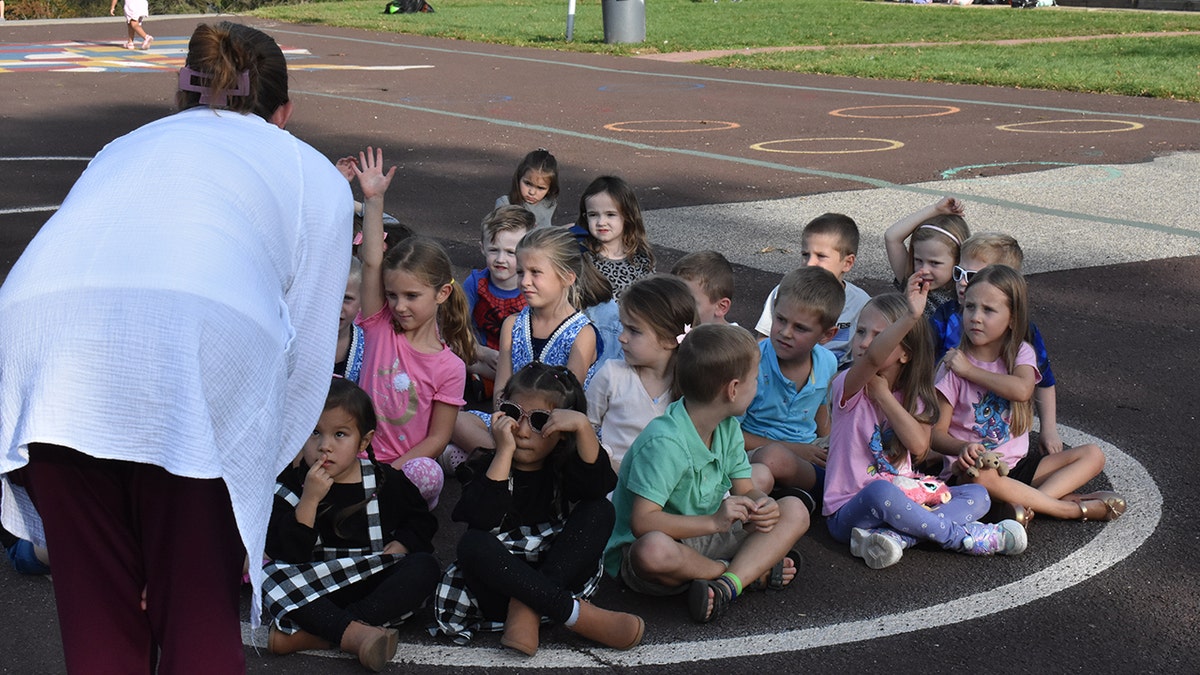 Lester said district officials were "certainly surprised" as the numbers continued to grow. 
"We are fortunate that the twins' families also found some humor and excitement in this unusual occurrence," Lester said.
GROUP HUG! BOY GETS ADORABLE 'WELCOME BACK' AT PRESCHOOL AFTER ILLNESS PUT HIS TWIN IN THE HOSPITAL
Ridge Park Elementary School leads the way with seven pairs, while Whitemarsh Elementary School welcomed six sets and Plymouth Elementary greeted four of their own.
Twin-dergarten — as it's been dubbed — began for the unique group of students on Monday, Sept. 11, followed by a week of kindergarten orientation activities. Everyone couldn't help but notice the abundance of twins.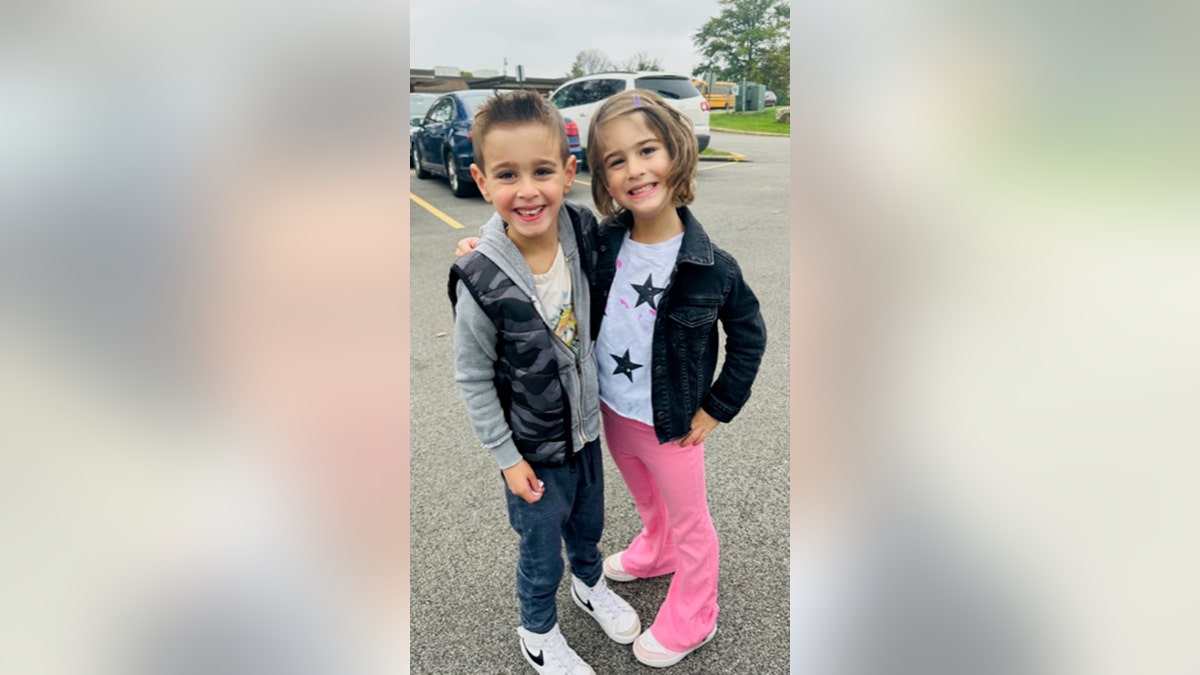 Though everyone has had a chance by now to settle into their class routines, it's still a wonder to all involved.
For Mia and Logan Weiser, it was a new experience to be surrounded by so many other sets of twins.
"They came from a private preschool setting, and it's a small grade, so they were pretty much the only set of twins in our bubble," the twins' mom Morgan Weiser said. 
MISSISSIPPI MOTHER OF RARE QUINTUPLETS REVEALS FIRST PHOTOS OF HER BABIES AS THEY 'REACH NEW MILESTONES'
"But we've known twins that are younger and older than them, and they actually have cousins, my husband's sister, who has boy-girl twins who are turning 10."
The mom added, "I'm also a twin."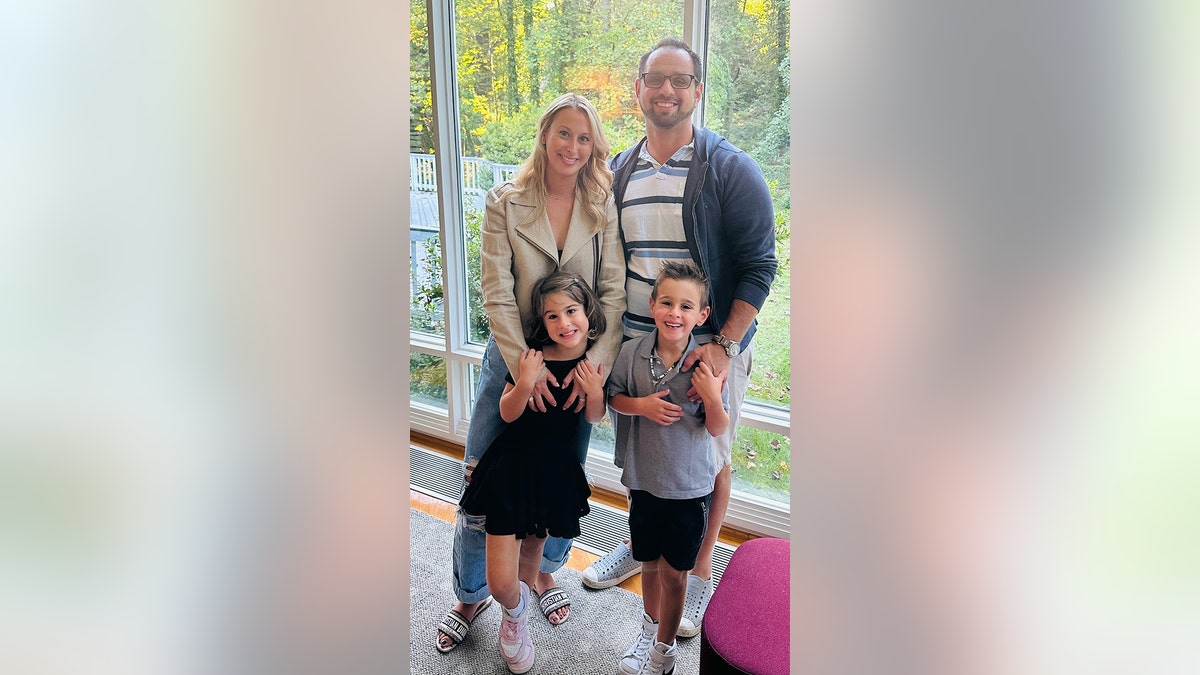 That gives Weiser some insight into the experience of her own children.
"I don't really know if they are aware of that connection they have outside of each other," Weiser said. 
"But I imagine that going to public kindergarten for the first time and just knowing that down the hall your twin sibling is there, and that there's the potential to see them in the hallway or on the playground — it's special."
PARENTS WELCOME 14-POUND BABY, THE LARGEST ON RECORD SINCE 2010: 'EVERYBODY WAS MAKING BETS'
The first day of school can be stressful for any kid, but having your birth buddy nearby can provide a sense of comfort.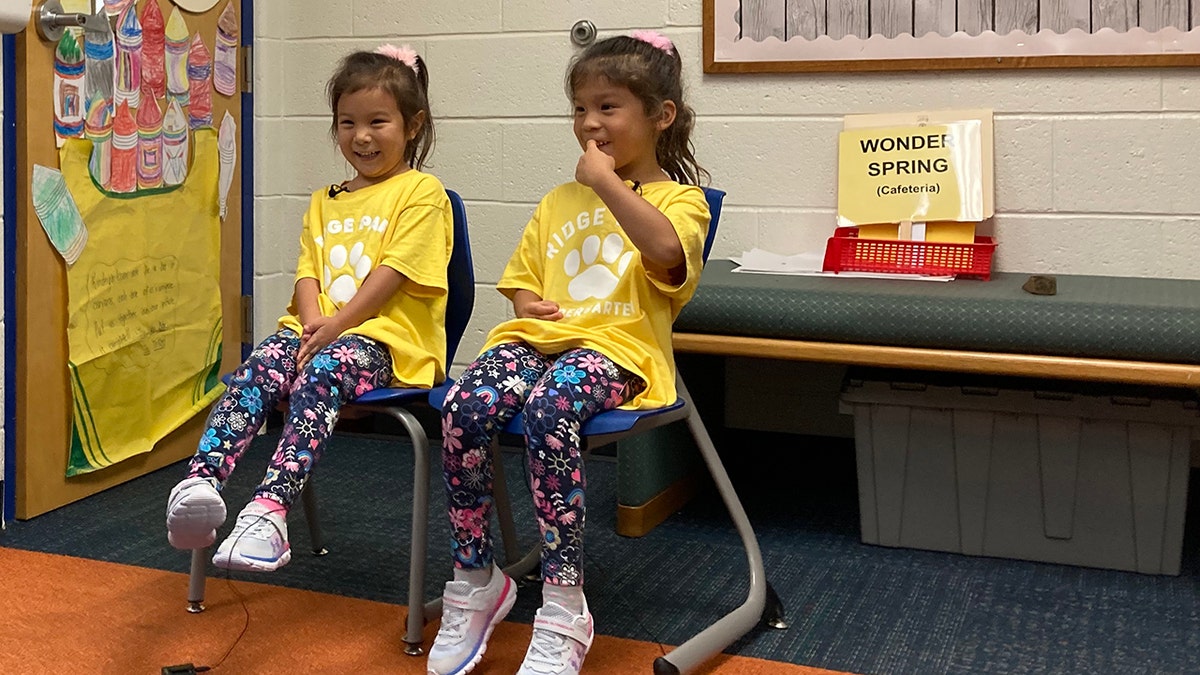 Lester collected comments from some of the twin-dergarteners.
"We always have each other," said Chloe and Audrey Ugas, who attend Ridge Park Elementary School. 
Brothers Tyler and Michael Notarianni, who attend Plymouth, agreed, saying they like having a "built-in best friend."
TWIN GIVES BIRTH TO IDENTICAL TWIN GIRLS AT SAME HOSPITAL WHERE SHE AND HER SISTER WERE BORN
Corinne and Julia Longwell, who are students at Whitemarsh Elementary, said that being a twin means "always having someone to be there for you." 
Charlotte Dorman, who also attends Ridge Park, noted, "I get to hug my brother any time I want."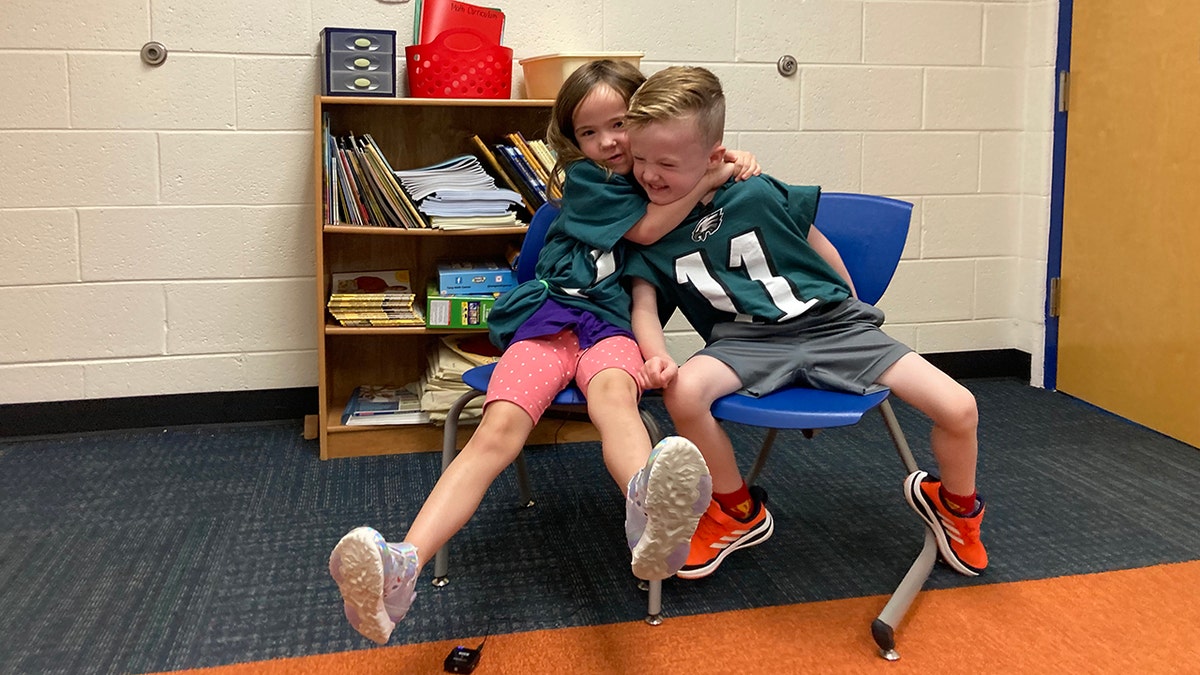 The Weiser twins are as close as twins can be, their mother said.
"They really do have such a special friendship and connection," Weiser said. 
MISSISSIPPI COUPLE WELCOMES 'RARE' QUINTUPLETS AFTER INFERTILITY BATTLE: 'THE BIGGEST BLESSING'
She continued, "They really have each other's back and it's been awesome to watch as they've gotten older."
There are different philosophies about whether to place twins in the same class or split them up — and Lester said that decision is up to the parents.
"I think that it's really cool that probably in every class there is a set of twins or someone who is a twin and has a twin in a different class."

— Morgan Weiser, mom of Mia and Logan Weiser
"Families have the option to decide if they want their twins to remain together or have different teachers," she said, "so some of the kindergarten teachers have both siblings in their class — and some may have just one."
The Weisers chose to let their twins go into different classrooms with different teachers.
TEXAS COUPLE WHO DONATED FROZEN EMBRYOS 20 YEARS AGO MEETS BIOLOGICAL TEEN TRIPLETS
"I was separated in kindergarten from my sister," Weiser said. 
"And I think that it allowed for each of us to become the students we were meant to be and not have direct competition academically."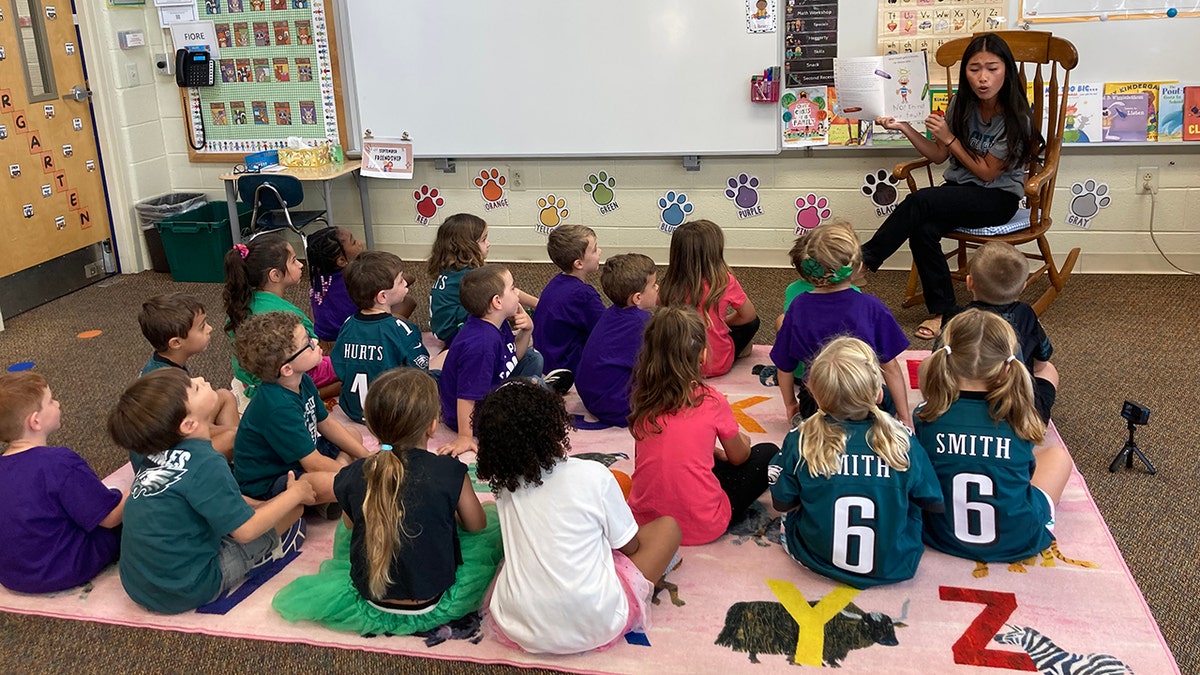 Weiser said she works to provide her children with unique opportunities to explore their individual interests — especially because they do spend so much time together. 
"My daughter is very into ballet and dance and my son is very into sports and lacrosse," she said. 
MOM GIVES BIRTH TO IDENTICAL TWINS 3 DAYS APART IN TEXAS: 'VERY UNCOMMON'
"But they are so used to being each other's buddy and they really have grown up doing most things together."
Chelsea Beddingfield decided to keep her twins together.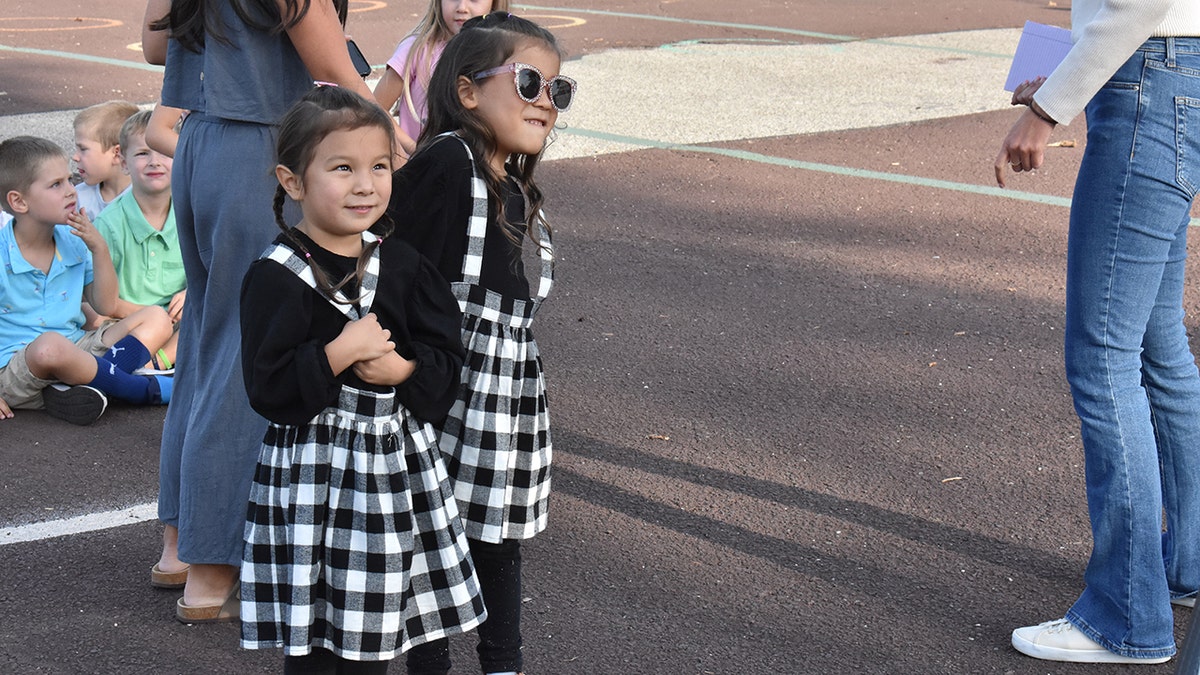 "[My] twins are extremely close, which is why I have them in the same class," Beddingfield, mother of Lukas and Brianna Beddingfield of Plymouth Elementary, told Fox News Digital. 
"When one is scared, the other knows how to make things OK. I like them in the same class because it provides a little comfort for them." 
FLORIDA PARENTS WELCOME THIRD BABY GIRL BORN ON SAME DAY AS THEIR OTHER DAUGHTERS: 'OUR MOUTHS DROPPED'
Comfort is something important to Beddingfield, who has suffered from epilepsy since she was a young child.
Getting pregnant wasn't easy, she said. She was even resolved to the idea that it might never happen.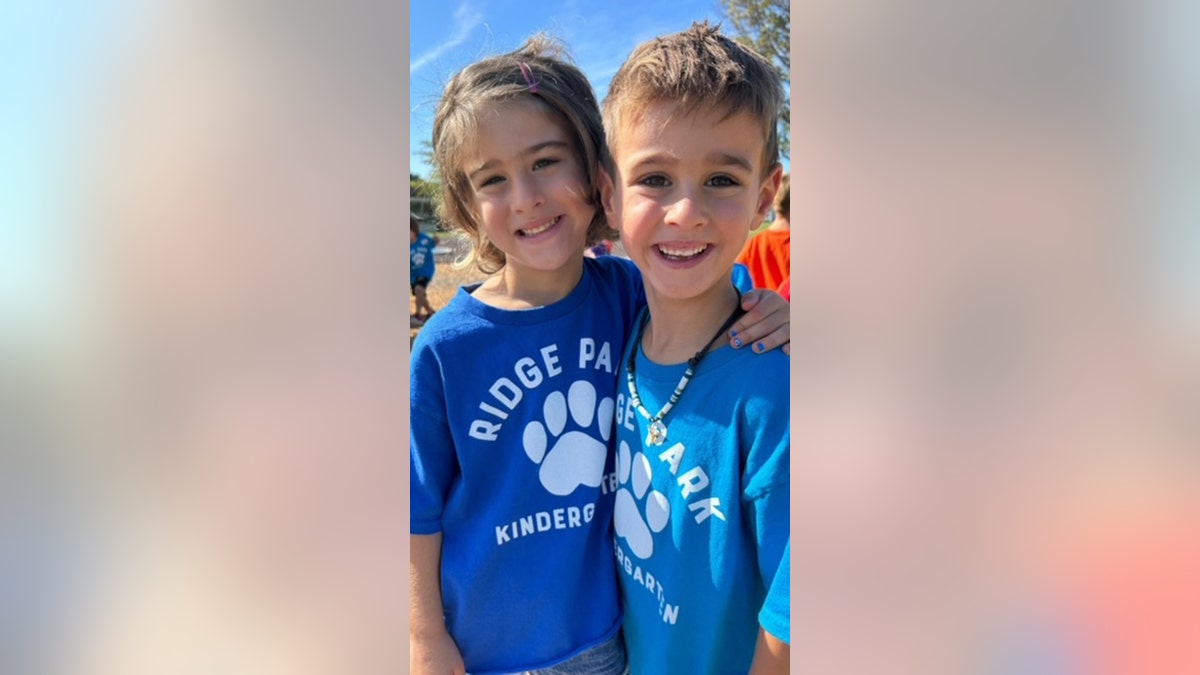 "I thank God every night for Lukas and Brianna," Beddingfield said. 
Meanwhile, the Colonial School District is enjoying its moment in the limelight.
"Everyone has been talking about the phenomenon," Lester said. 
"We are just enjoying being able to feature our kindergarten students," Lester added.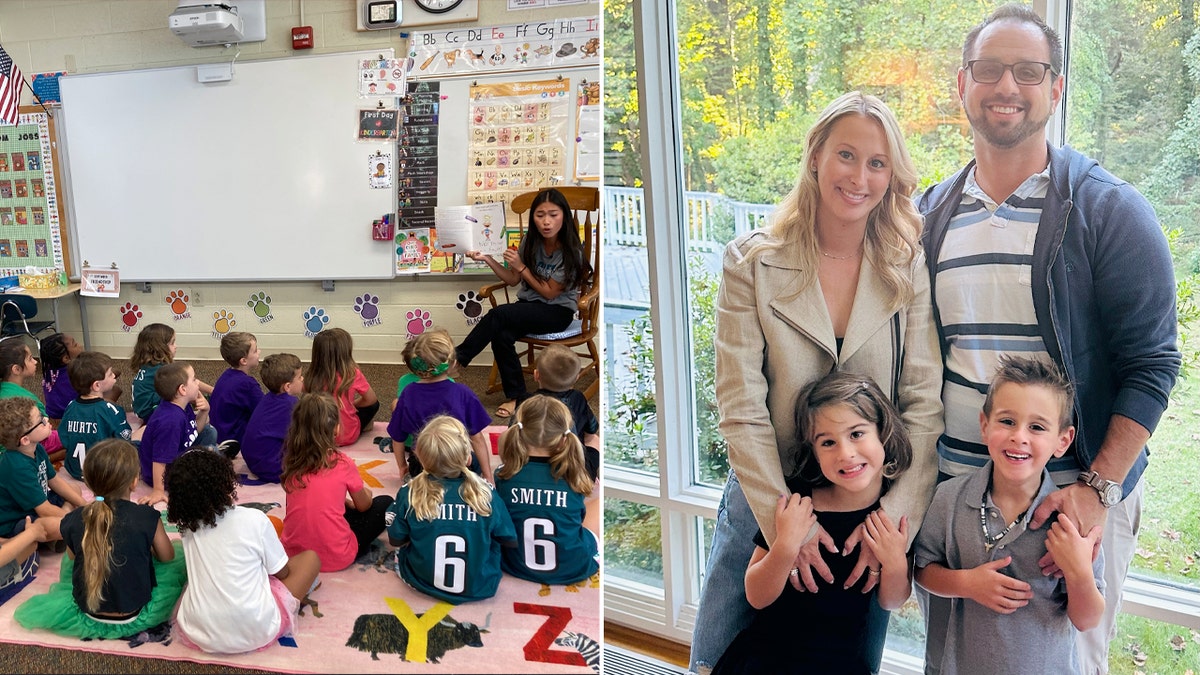 "They bring smiles to our faces on a regular basis with the things they do and say, so it's been a pleasure to be able to share their stories with those who don't have the privilege of being around our youngest learners."
The twins are all taking their fame in stride.
"Their friends have seen them on the news," Weiser said. 
"The school has been proud to share — and it's definitely a unique thing that has never happened in our school district before," Weiser added.
For more Lifestyle articles, visit www.foxnews.com/lifestyle.