Missouri, often referred to as the "Show-Me State," is a land of diverse landscapes, rich history and vibrant culture. 
From the majestic Ozark Mountains to the bustling cities like St. Louis and Kansas City, this Midwestern state offers a wealth of attractions and activities for every type of traveler.
Whether you're an outdoor enthusiast, history buff or a lover of the arts, Missouri has something to offer. 
MISSOURI WINE INDUSTRY LOOKS TO BE THE NAPA VALLEY OF THE MIDWEST
Here are a few of the must-see attractions in the "Gateway to the West."
Gateway Arch
Missouri Botanical Garden
Branson
Mark Twain Boyhood Home & Museum
Katy Trail State Park
Forest Park
Lake of the Ozarks
St. Charles Historic District
Missouri Wine Country
City Museum
1. Gateway Arch
One of the most iconic symbols of the United States, the Gateway Arch in St. Louis is a must-visit. This architectural marvel stands as a tribute to America's westward expansion. 
You can take a tram ride to the top for panoramic views of the city and the Mississippi River, making it an unforgettable experience.
2. Missouri Botanical Garden
For those seeking a tranquil and lush escape, the Missouri Botanical Garden is a horticultural paradise. With stunning flora from around the world, including the exquisite Japanese Garden and Climatron conservatory, it's a serene oasis in the heart of the city. 
STATE NICKNAME QUIZ! HOW WELL DO YOU REALLY KNOW THESE US STATES?
This is one of the oldest and most renowned botanical gardens in the United States. 
3. Branson
Branson proudly bears the title of the "Live Music Show Capital of the World." This entertainment hub in the Ozarks offers an array of live performances, from country and gospel music to comedy shows. 
The city is also surrounded by stunning natural beauty, including Table Rock Lake and the Ozark Mountains.
4. Lake of the Ozarks
Lake of the Ozarks has earned a reputation as a premier recreational destination, drawing visitors from across the Midwest and beyond. 
Whether you're seeking water-based activities, outdoor adventures or a tranquil escape in a scenic setting, the lake offers a diverse range of experiences for all ages and interests.
5. Katy Trail State Park
Katy Trail is a 240-mile trail, making it one of the longest rails-to-trails conversions in the United States. 
This trail offers an excellent opportunity for cycling, hiking and enjoying the picturesque Missouri River Valley, as it winds through charming towns and beautiful countryside.
6. Forest Park
Larger than New York City's Central Park, Forest Park in St. Louis is a sprawling urban oasis. It's home to the Saint Louis Art Museum, the Missouri History Museum, the St. Louis Science Center, and the St. Louis Zoo. 
Visitors can explore the park's numerous attractions, paddle on its lakes — or simply enjoy a leisurely stroll.
7. Mark Twain Boyhood Home & Museum
The Mark Twain Boyhood Home & Museum is a historic site and museum complex located in Hannibal, Missouri. 
It is dedicated to preserving and celebrating the life and literary contributions of Samuel Langhorne Clemens, better known by his pen name, Mark Twain.
8. St. Charles Historic District
Located on the banks of the Missouri River, St. Charles is a charming historic district that offers a glimpse into the state's past. You can explore cobblestone streets, visit historic homes, and enjoy local shops and dining. 
KANSAS CITY, MISSOURI, TO OPEN $1.5B AIRPORT AT THE END OF FEBRUARY
The district's historic significance is tied to the Lewis and Clark Expedition, which set out from here in 1804.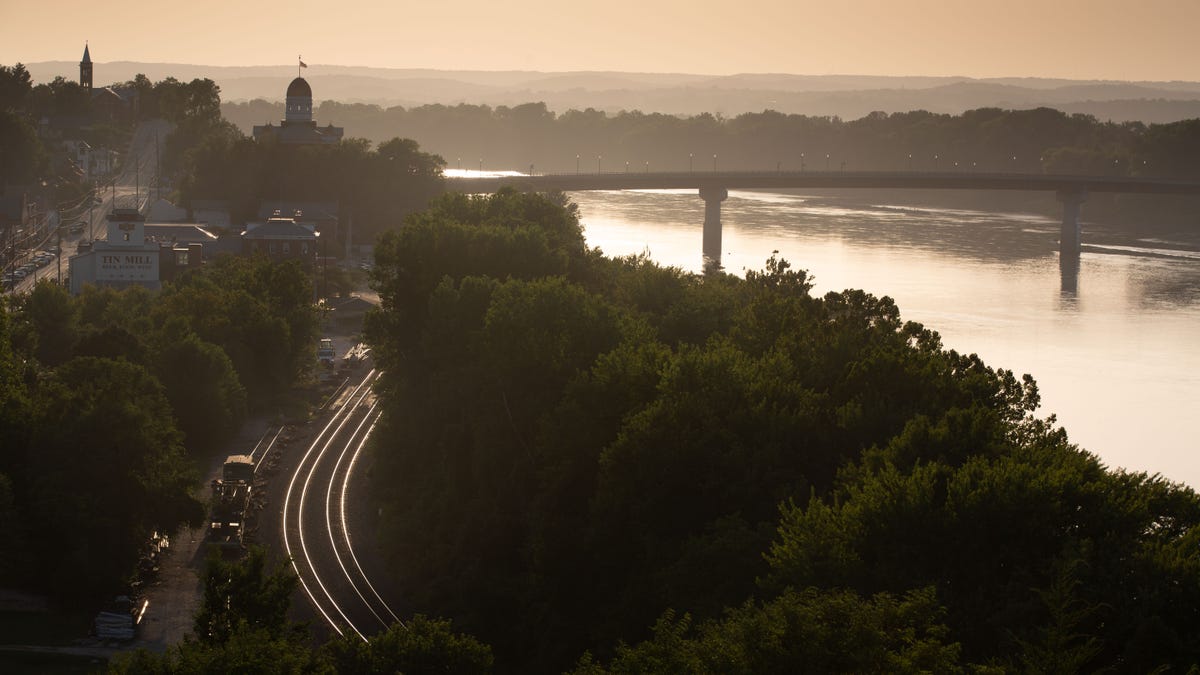 9. Missouri Wine Country
The Missouri Wine Country, particularly around Augusta and Hermann, has emerged as a vibrant and dynamic region celebrated for its winemaking heritage and the quality of its wines. 
Whether you're a wine connoisseur or simply looking for a relaxing and scenic getaway, this region offers a delightful combination of history, culture and exceptional wine-tasting experiences.
10. City Museum
Situated within the confines of a former shoe factory in the heart of Downtown St. Louis, the City Museum stands as an ever-evolving, perpetually captivating artist-crafted wonderland, teeming with uniquely extraordinary areas to discover. 
Missouri's diverse attractions cater to a wide range of interests, making it a destination for exploration and discovery. 
Whether you're taking in the breathtaking landscapes, immersing yourself in history, enjoying cultural experiences or savoring local cuisine, the Show-Me State offers a unique blend of Midwest charm and hospitality. 
Make Missouri your next travel destination and uncover the treasures it has to offer.
For more Lifestyle articles, visit www.foxnews.com/lifestyle.