As a long-time pulmonologist, Dr. Earl King understands that talking about lifestyle with his patients can help them a great deal. After he completes their physical and discusses prescriptions and refills, he frequently chats with them about their lives and assists them in finding ways to manage their stress and reduce their symptoms. When Robin Sipes, who has COPD, came into her September appointment crying, he knew the social visit couldn't wait until the end.
"She was pretty much sobbing and very distressed when I walked in the room," King, a pulmonologist at Sentara RMH Medical Center in Harrisonburg, Virginia, tells TODAY.com. "She told me that her cat died." 
That's when King offered a prescription to Sipe he had never given to another patient. "Go get a cat."
Life with COPD
Sipe has been King's patient since he moved to Virginia in 2017 and she feels thrilled with the care she receives for her COPD, a disease that occurs when scarring, mucous accumulation and damage obstructs the airways and wrecks the lungs. Tobacco use often causes COPD, which can range in severity and symptoms.   
"He has saved my life with intubation and ICU care three times," Sipes, 67, of Grottoes, Virginia, tells TODAY.com. "He's a very special doctor to me."
Four times a year, she visits King to have her medications refilled and to make sure she's healthy. Though briefly, King returned to Philadelphia to practice, and Sipes felt bereft.
"I got a letter in the mail telling me he was no longer (with the practice)," she says. "I cried because he was so special to me. But the next year he came back so he got to be my doctor again. So, I was very happy."
Sipes appreciates that King genuinely seems to care about who she is as a person and often asks how life is going. For the past five years, Sipe had a beloved cat that kept her company, but the cat passed away suddenly. Sipes felt devastated by the loss — she always lived with dogs or cats since she was 4 years old. To her, pets were "a huge gift to my home." Suddenly, she felt alone, and her grief lingered when she attended her quarterly appointment with King.
"I was crying. He asked me what was wrong," she recalls. "I explained to him that I lost my pet, and I was very sad."
King felt stunned by her sadness, she says.
"He told me at that time, 'Robin, I've never seen you like this,'" she says.
In the past, King had worried that Sipe had a cat allergy that could have been worsening her COPD symptoms. But he tested her, and she was not allergic to felines. He knew that her having a cat at home was safe and realized that feeling lonely could be dangerous for her health.
"(I said) 'Your daughter's on the West Coast, you need a companion,'" he recalls. "(I said) 'You need a cat. It's OK.'"
The two talked about her prescriptions and he recommended she get the flu shot and the COVID-19 booster. When he was writing up her after-visit summary, he decided to jot down "Get a cat" on the list of recommendations. Sipe noticed him laughing while he was writing out his instructions.
"I said, 'What's so funny?'" Sipe says. "He said, 'Wait, you'll see."
When she received the after-visit instructions, she, too, began chuckling because she had never heard of a prescription for a cat. King admits this is also new to him.  
"This is the first time I wrote down a prescription for a cat. There have been times before where I've recommended a companion or service dog," King says. "I never wrote it all down. But this time I felt it was important to specify for Robin that she get a cat."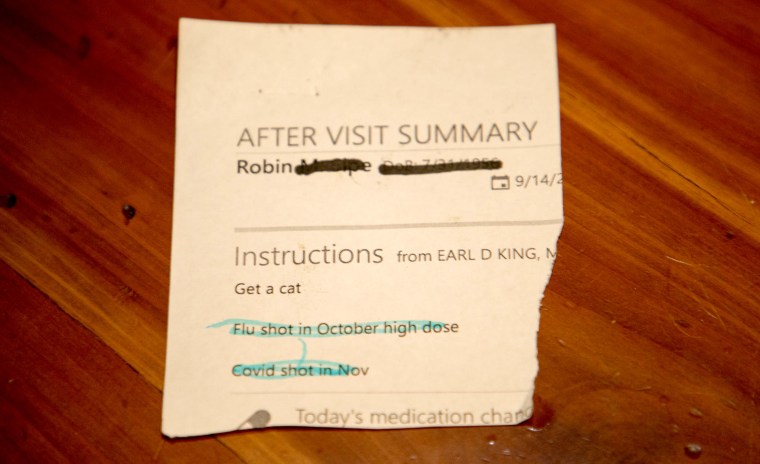 Over his years of practicing, King has seen how important lifestyle is to his patients' quality of life.
"Anything you can do to lessen the burden of their symptoms is beneficial — so positive mental outlook, making sure they're taking care of themselves with diet. Obviously, quitting smoking," he says. "Mental outlook your overall health conditions in your own life is very important for your health because body and mind are connected." 
Life with a cat
Sipes took his advice to heart. On her way home from the visit, she stopped at a farm stand and noticed kittens in need of a home. She immediately gravitated to a tiny cat, missing a paw.
"This kitten needed me, and I needed her," Sipe says. That's why I chose her."
The kitten has a special namesake — King — and she goes by Earlene.
"He was very concerned about my overall wellbeing," Sipe says. "I had a broken heart because my cat died and he was concerned about my heart and my lungs and my mental (health). He wanted me to be happy."
Sipe enjoys life with Earlene, even when the kitten wakes at 1 a.m. to run wild around the house, as kittens do. When that happens, Sipe turns on the TV, grabs a drink and returns to bed where Earlene falls back asleep in her arms.
"That to me is a blessing — a pure blessing from God," she says.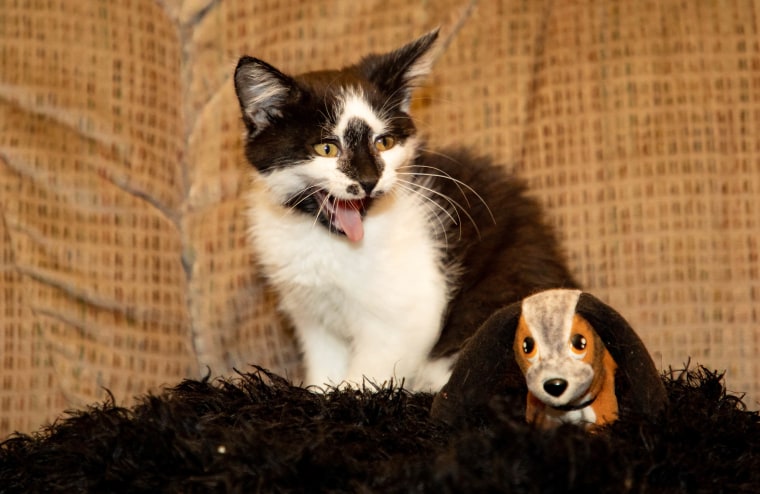 Sipe doesn't have the internet and says she's a private person, but she wanted to share her story, so others know that King is a great doctor and also to bring a smile to people's faces. When Earlene is older, Sipe hopes to take her to a local veterans' home as a therapy animal.
"I always want to be a giver. I don't want to be a taker," Sipe says. "If people are sad and lonely and feel that they have no friends or whatever … they (can) get a pet." 
Read the full article here