Terry Sanderson said actress Gwyneth Paltrow was responsible for more than just the injuries he suffered on the ski slope in 2016.
During the sixth day of testimony, Sanderson blamed the actress for three "near-death experiences" after the collision. Sanderson initially sued Paltrow for $3.1 million and claimed he was the victim of a hit-and-run on the slopes at the Deer Valley ski resort in 2016. A judge dismissed the claim and removed the exclusive resort and a ski instructor from the lawsuit before Sanderson proceeded with the $300,000 suit. Paltrow filed a countersuit seeking $1 and attorney's fees.
Stephen Owens, Paltrow's lawyer, called Sanderson to the stand Wednesday and referred to three specific instances in which the retired optometrist testified about serious medical issues, including an accidental overdose due to a confusion in medication.
"You blame Ms. Paltrow for all of those near-death experiences?" Owens asked.
"Yes, it's very unusual for me to not make good medical decisions," Sanderson said.
GWYNETH PALTROW'S EXPERT WITNESS ENDURES SCATHING CROSS-EXAMINATION BY PLAINTIFF'S ATTORNEY
Owens asked Sanderson about a time when he allegedly knocked himself out for a long period of time "because whatever had melted had actually warped the wooden floor." He asked, "Did you seek medical care for that?"
Sanderson said, "No, I wasn't tuned in."
Throughout six days of testimony, lawyers have argued over Sanderson's memory issues.
"Did you think you were out for 45 minutes at the time?" Owens asked.
"At the time I did, but now I've come to the conclusion that … it was 2:30 in the morning and I just wiped up all the water on the floor, and I didn't get it all," Sanderson said. "I think that's what caused the swelling. It usually takes about 45 minutes, so I'm pretty sure that would be impossible to be out."
GWYNETH PALTROW SKI TRIAL HIGHLIGHTS TAYLOR SWIFT, TOM BRADY AND OPRAH
When asked why he didn't pursue medical attention, Sanderson said, "I was not making good decisions in that sort of near-death experience."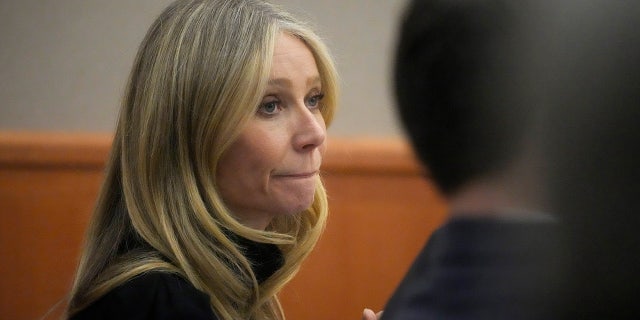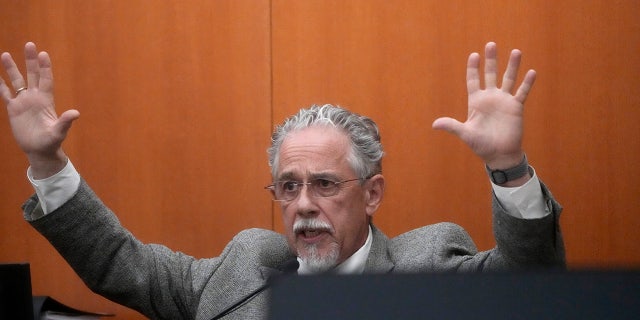 The second instance occurred when Sanderson cut his leg "through the femoral artery." He admitted the injury "looked like a murder scene."
A third near-death experience was when Sanderson allegedly suffered an accidental overdose of medications.
GWYNETH PALTROW ACCUSER TESTIFIES IN SKI COLLISION TRIAL, DESCRIBES 'BLOOD-CURDLING SCREAM'
"They had to give you Narcan because you had taken OxyContin and tramadol, is that right?" Owens asked.
"I didn't know I had taken tramadol … I took just the OxyContin that I had for my ribs, actually, my ribs being broken from the ski accident," Sanderson said.
Naloxone, with the common brand name Narcan, is an opioid antagonist medication that reverses overdoses. Tramadol is a narcotic used to treat severe pain.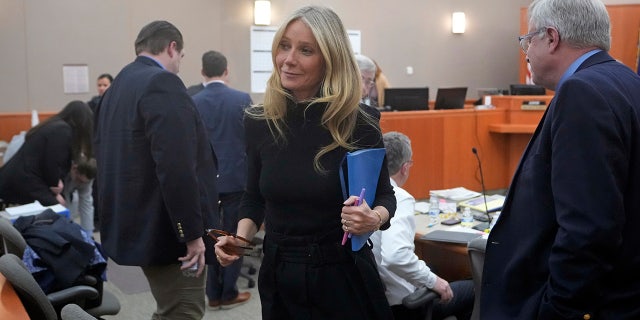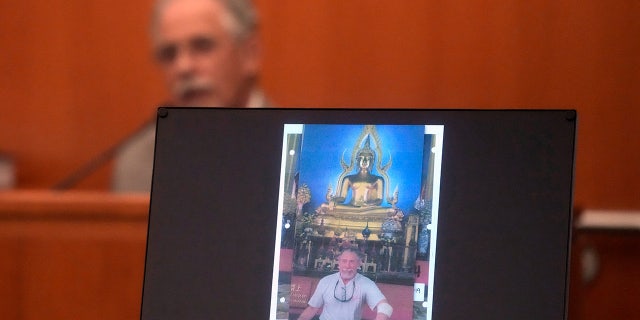 Owens showed the jury a round of photos that included Sanderson on various excursions after the collision, including trips to Peru, Germany, Morocco, scuba diving, zip-lining, bike rides and boat tours.
"Did you struggle on any of those trips?" Owens asked, to which Sanderson said, "Yes."
GWYNETH PALTROW SKI COLLISION TRIAL: LEGAL EXPERTS ANALYZE IF CELEBRITY STATUS MADE HER A TARGET
Owens showed a photo from Sanderson's Facebook page of what appeared to be an empty seat on an airplane with a caption including, "Wheels up."
"Robin didn't like me anymore," Sanderson said, referring to a former girlfriend. "My personality changed."
Owens clarified, "It didn't say, 'I'm really sad, my girlfriend doesn't like me anymore.'"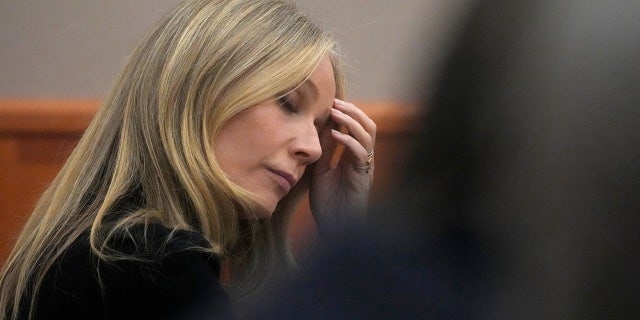 Sanderson said that his travels were "part of the healing process." He testified, "I was told by several neurologists and cognitive therapists, 'Get back to your routine. As soon you can do that, the better you'll be.'"
He was also asked about a 2019 press conference when he reportedly referred to the Academy Award-winning actress as "King Kong."
When Sanderson initially filed a suit against Paltrow, he claimed he "heard this just hysterical screaming like … King Kong in the jungle or something."
Owens pressed Sanderson, "Did you … compare my client to King Kong coming out of the jungle, yes or no?"
"That was not my intention," Sanderson said. "I'm not sure, but probably. Sounds familiar. I dispute my intentions."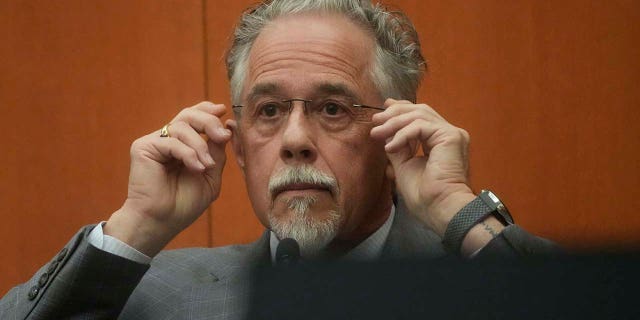 The 76-year-old outdoor enthusiast previously suffered a stroke and had limited function in his right eye prior to the ski crash. Sanderson claimed Paltrow crashed into him and caused "permanent traumatic brain injury" in addition to four broken ribs.
The jury heard from two of Sanderson's three daughters last week. Polly Grasham and Shae Herath both testified about changes they have observed in their father's personality since the ski collision.
Sanderson accused the Goop founder of skiing off after the accident, which left him with a "permanent traumatic brain injury, four broken ribs, pain, suffering, loss of enjoyment of life," along with emotional distress and disfigurement, according to the lawsuit.