Target had "Pair of Thieves" and other men's underwear brands under lock and key at a New York store, a seeming irony as the national retailer continues to deal with theft.
At a White Plains, New York, store, rows of "Pair of Thieves" products could be seen displayed in glass-fronted security cases. Other brands of underwear also appeared locked up alongside them.
"Pair of Thieves," which is based in Los Angeles, also sells socks and undershirts. FOX Business reached out to the brand and Target for comment on the men's underwear displayed behind glass at the White Plains store. 
Some retailers have put underwear and some other products in anti-theft security cases in past instances. That includes measures back in 2020, according to reports.
TARGET SCRAPS PLAN TO OPEN NEW STORE IN PHILADELPHIA AFTER CRIME CRISIS LED TO OTHER STORE CLOSURES NATIONWIDE
In a report released in September, the National Retail Federation (NRF) found that underwear and certain other clothing were products that organized retail crime groups often try to steal. Some other "frequently targeted" items included handbags, cellphone accessories, designer footwear and cosmetics, according to the organization.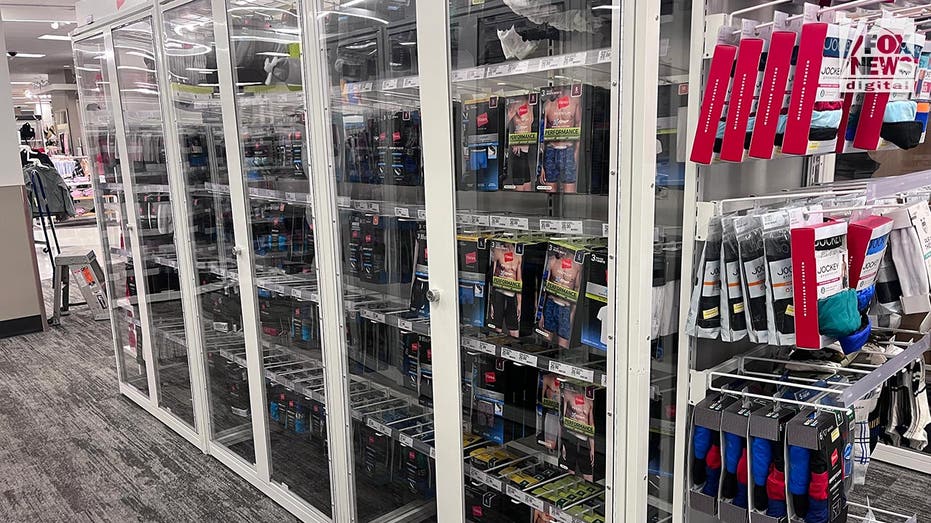 Some personal care aisles at Target locations in San Francisco and in Riverdale, New York, made headlines in April for having the items stored in locked shelves.
At the time, a Target spokesperson said the company takes a "multi-layered approach to combating theft."
"This includes in-store technology, training for store leaders and security team members, and partnerships with law enforcement agencies as well as retail trade associations," the spokesperson said. "On a limited basis, we also employ theft-deterrent merchandising strategies, such as locking cases, for categories that are prone to theft. While we don't share specifics on these strategies, these decisions are generally made at a local level."
Ticker
Security
Last
Change
Change %
TGT
TARGET CORP.
106.79
-3.06
-2.79%
Theft, which has long harmed many retailers in the industry, has continued to be an issue this year.
WALMART AND TARGET EXECUTIVES SPEAK OUT ON RETAIL CRIME
Target executives have discussed it during earnings calls this year, most recently in August when the company put out its second-quarter results. CEO Brian Cornell told those listening to the call that "shrink in the second quarter remained consistent with our expectations but well above the sustainable level where we expect to operate over time."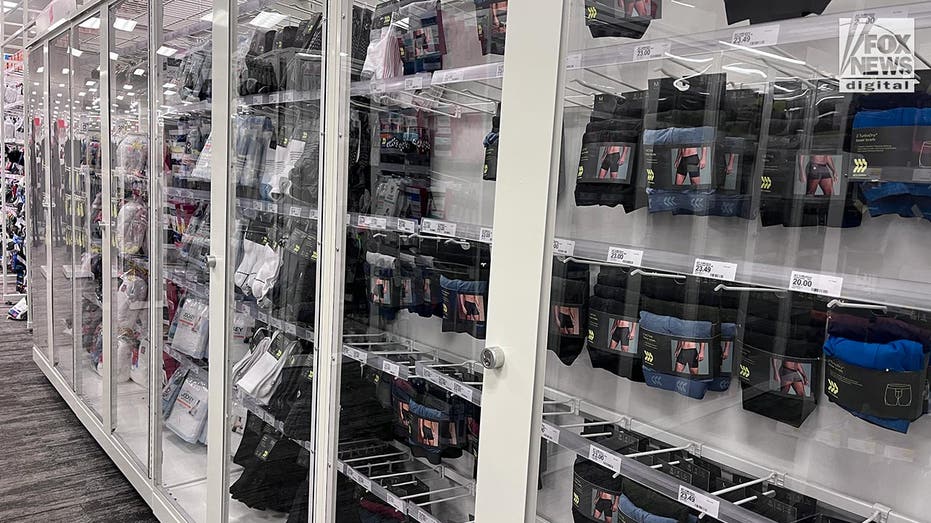 "We're working hard, both inside our stores and with government and community partners, to achieve lower loss rates over time," CFO Michael Fiddelke said at the time. "And our long-run expectation is that shrink rates will moderate from today's unsustainable levels. So far, we've only seen indications that loss rates might soon be reaching a plateau but have not yet seen evidence that loss rates will begin to come down."
Some other companies have also raised the issue.
In late September, Target said theft and organized retail crime that put safety and local business performance at risk was prompting it to shutter nine stores. It did so after investing "heavily" in various ways to prevent it, the company said at the time.
HERE ARE THE CITIES MOST PLAGUED BY ORGANIZED RETAIL CRIME: REPORT
On top of using strategies like locking cases "on a limited basis," the company has said it has continued to pursue more security staff, store leader and security team training and other measures to help curb theft. It has also upped its cyberdefense, according to a September press release.
Theft and other forms of inventory loss cost U.S. retailers $112.1 billion in 2022, according to the NRF. In the year prior, such losses were $93.9 billion.